Outgoing Austrian Chancellor Lets Slip His Real Views on Brexit
By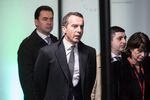 Liberated from public office as soon as this weekend, outgoing Austrian Chancellor Christian Kern told some home truths on Brexit.
Kern used his arrival at Thursday's EU summit in Brussels to deliver some remarks that were uncharacteristically candid for a political leader, and may well reflect what many around the table must be thinking.
"I hope that it could be reversed," Kern said in English, when asked if he felt there was a chance that Brexit might not happen. He cited "a lot of big issues, challenges not easy to solve," along with "a lot of tensions in the domestic political area in Great Britain."
"So who knows," he said. He added that it might be "better to bet on dogs."
Before it's here, it's on the Bloomberg Terminal.
LEARN MORE