Energy Sector Eyes 'New World' of Returns to Quash Oil Angst
By
Barclays Plc sees Brent crude averaging $55 a barrel next year

Disconnect between oil prices and stocks may entice investors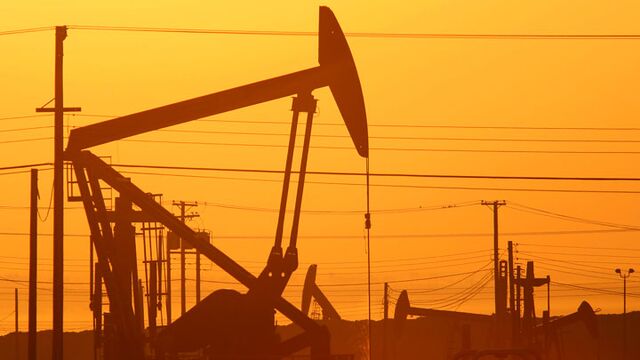 The energy sector could use a fresh start.
This year was plagued by the volatility in oil prices and a lack of returns-based strategies from companies that caused an exodus of generalist investors. But, there's still a disconnect between oil and equities, which may entice stock pickers in 2018. 
The prospect of "new world players" in energy, a concept espoused by Macquarie Capital analysts that focuses on corporate returns, could also help fuel optimism in the space if oil behaves.
Most of the recent strength in oil prices is due to temporary factors that'll reverse next year, Barclays Plc analysts wrote in a Dec. 13 report, citing reduced Canadian crude supplies and pipeline outages. The bank sees the global benchmark, Brent crude, staying around this year's average $55 a barrel in 2018.

EXPLORATION & PRODUCTION 
Cowen (Charles Robertson II)
The "balance of terror" seen keeping the U.S. exploration & production sector disciplined and OPEC proactive, supporting 2018 crude prices

Cowen sees change coming despite investors not believing that E&Ps can or will return cash

Some E&Ps have or will soon alter their management compensation to reflect cash flow vs production growth as the main component
Cowen's 2018 base case is $55 oil, $3 gas (with 60% odds), implies ~50-70 rigs to be added throughout 2018; also assumes a near balanced crude market, and normal winter for natural gas
Cowen's Top oil picks are Anadarko Petroleum, Noble Energy, and Pioneer Natural Resources. Top natural gas-exposed companies are Cabot Oil & Gas, EQT Corp., and Range Resources
Evercore ISI (Stephen Richardson)
Notes a valuation dispersion in E&Ps, though response from investors has been a "we don't care" attitude
"Unchallenging" valuations along with an industry "shifting strategy to capture more value (vs. volume growth) underpin a positive view of the E&Ps"
Cimarex Energy, RSP Permian are Evercore's preferred picks. The firm will look for opportunities to add to core positions in stocks including EOG Resources, Diamondback Energy, Concho Resources, Pioneer Natural, and Parsley Energy. Among more value focused opportunities, Evercore prefers Marathon Oil and WPX Energy.
Bloomberg Intelligence (Vincent Piazza)
Defensive, lower-beta integrated oil companies, including ExxonMobil, Chevron, and Occidental Petroleum may remain in favor in the near term compared with more volatile E&Ps as commodity skepticism persists even with the recent crude oil rally

Cabot Oil & Gas remains well-positioned to expand output faster than peers without straining its balance sheet
Concho's operational execution and capital discipline position it well among Permian Basin peers
Chesapeake Energy's balance sheet and Range Resources' diversity aid skeptics

On mergers and acquisitions, BI says domestic upstream M&A will likely recover from a weak third-quarter even as crude oil benchmarks stabilize at lower levels

Solid private-equity sponsorship of E&Ps is primed to raise competition for assets and deal making, while lingering uncertainty of the fundamental backdrop informs the bearish view on M&A.
OIL SERVICE
UBS (Angie Sedita)
Sees 2018 being a "prisoner's dilemma" near-term for oil service sector:

"If the rig count is relatively flat (E&P's show some discipline), then investors will question how much revenue/margin growth can be obtained on efficiency gains"
"If the US rig count begins to grow rapidly, then US oil production growth fears will return and thus concerns about the oil price outlook"

Any early rally in oil service stocks could be short-lived as companies seen unlikely to get "full credit for any potential frac pricing and EPS upside in 1H18"

Stocks may start to "act better" in late 2018

Positive on stocks with exposure to pressure pumping; also remains positive on offshore sector as a contrarian call
Top picks: Halliburton, Transocean, and Patterson-UTI Energy
Bloomberg Intelligence (Mark Rossano)
North American oilfield services providers are set for a robust 2018 across the supply chain as completions ramp up

Offshore service market has started to find a base as Gulf of Mexico projects get sanctioned
Onshore E&Ps are well-hedged, helping to lock in production, and service pricing is stabilizing

Sand loadings will increase to 100m-110m tons in 2018 as well completions accelerate and E&Ps maximize the downhole recipe
Oilfield services companies trade at a small premium to the S&P 500, but are less expensive vs the broader index than at the start of 2017
REFINERS
Bloomberg Intelligence (Fernando Valle)
U.S. refiners seem poised to enjoy strong margins through the start of 2018, but with additional refining capacity ramping up in Asia, margins could be pressured in the second half
Changes to the Renewable Fuel Standard (RFS) seem unlikely in the first half of the year, but gasoline demand growth in the U.S. and exports could give merchant refiners some relief as more ethanol credits are generated
Noted Nov. 22, Phillips 66 trades at the highest valuation at 8.7x EV/2018 Ebitda, followed by Marathon Petroleum (7.6x) and HollyFrontier(7.3x). PBF Energy and CVR Refining trade at the cheapest valuations, 5.7x and 5.0x, respectively
Before it's here, it's on the Bloomberg Terminal.
LEARN MORE