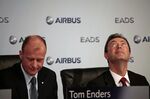 Tom Enders has been talking about making Airbus SE a "normal company" for at least a decade, but the messy nature of his departure shows it's still a long way from being that.
Airbus said on Friday that the chief executive will leave when his term ends in April 2019 and his chief operating officer Fabrice Bregier will go in February, after days of rumors about an unfolding power struggle.
While it's fair to give credit to the German ex-paratrooper for overhauling the company's governance and cutting the influence of its state shareholders in Paris and Berlin, the wave of pre-announcement leaks to the press about his departure and that of his French heir apparent was redolent of the bad old days. Ten years ago, Airbus was run by a pair of French and German co-CEOs and co-chairmen—not an especially harmonious arrangement.

Nowadays, there's just the one CEO—Enders—and then there's Bregier, who'd been expected to succeed him (the understanding is that a French boss will succeed a German one and vice versa for all perpetuity). Bregier has been a perennial rival to his chief. But booming sales, a rising share price and well-received new aircraft such as the A350 and A320neo had kept Franco-German political machinations to a minimum.
Yet normality is best judged not when things are going well, but when they're not.
Now, Airbus faces a big fine linked to allegations it used middle-men to secure contracts and Enders apparently didn't make himself any friends in Paris by aggressively pursuing the matter. The upshot is both him and his presumed successor are out. (There is no suggestion of wrongdoing on either of their parts).
While Airbus arguably has enough on its plate without a big management overhaul, the clear-out should make it easier to put the saga behind it. Yet it's foolhardy to pretend that French and German political interests don't still weigh here, despite a statement from Enders earlier this week that his future wouldn't be decided by "the French press or the French government or any government."
Airbus is the only standout example of pan-European industrial cooperation and so long as it remains reliant on defense contracts, governments will always have a view on who runs it. Its high-tech factories are spread across the continent, supporting thousands more jobs in the supply chain.
A company that clings to prestige projects like the A400m (military transporter) or A380 superjumbo, despite their mounting losses, or one that's spent years engaged in tit-for-tat legal battles with bitter rival Boeing Co over state subsidies, will always struggle to be seen as "normal."
From a sales perspective, Airbus has thrived under Enders' leadership. But he's been lucky too. While new orders have been a bit sluggish lately, the commercial aircraft business has enjoyed fair weather since 2010. 
In an ideal world, Airbus chairman Denis Ranque would complete the Enders mission by recruiting a scrupulously neutral replacement for the CEO. Someone from Switzerland, say. But another Frenchman—Airbus helicopter boss Guillaume Faury—will be parachuted in to replace Bregier, putting him in line to take over the top job when Enders retires. Though in some respects he represents a break from the past having served time outside Airbus, the Franco-German carousel looks set to continue.
It seems Enders's hopes to normalize this most political of companies were a touch unrealistic.
Before it's here, it's on the Bloomberg Terminal.
LEARN MORE