Your Evening Briefing
Here are today's top stories
By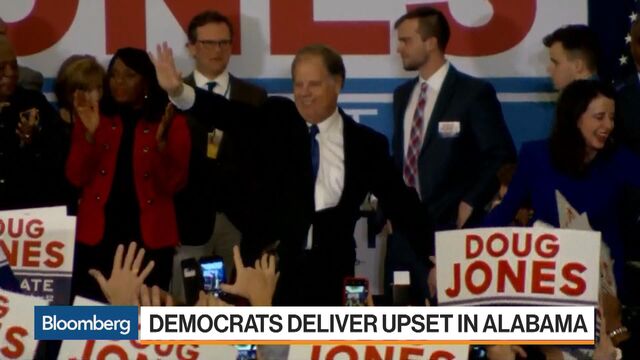 Want to receive this post in your inbox every afternoon? Sign up here.
It was a matter of minutes between the moment GOP candidate Roy Moore lost to Democrat Doug Jones in Alabama's Senate race and when Republicans starting assigning blame for the defeat. Some pointed the finger at Steve Bannon, while others targeted Senate Majority Leader Mitch McConnell. —Josh Petri
The GOP is pointing fingers after its defeat in Alabama. Almost nothing scares Republicans more than losing a seat in solidly GOP territory, especially when it drops their Senate majority to 51-49. Thus far, Republicans in Congress haven't sought to blame President Trump himself for Moore's loss, but party members fear more of the same in the 2018 election might take away their majorities in Congress.
Here's where the GOP tax plan stands right now. Details of an agreement among Senate and House Republicans emerged on Wednesday, including rate cuts for corporations, individuals and pass-through businesses. Republicans are hoping to get the bill signed into law before Christmas.
This electric truck will probably beat Tesla's to market. Thor Trucks' all-electric ET1 looks like a matte black transformer rolling around the streets of Los Angeles. When it starts shipping in 2019, the truck will have a $150,000 starting price and a 300-mile range, competing with medium-duty delivery trucks.
Rosenstein says he sees no cause to fire Special Counsel Robert Mueller. Republicans hit the Deputy Attorney General with a barrage of questions about what they say is an anti-Trump bias at the FBI and Justice Department during a House Judiciary Committee hearing on Wednesday. Rosenstein told the hearing a determination hasn't been made to justify a second special counsel sought by Republicans.
College basketball made Louisville, then broke it. Money ruled everything around the basketball-mad university town long before the Adidas bribery scandal. For years, the Cardinals served as the University of Louisville's fulcrum—and its engine of economic growth. Now the school must question the degree of its dependence on its team.
Federal Reserve officials followed through on an expected interest-rate increase and raised their forecast for economic growth in 2018, even as they stuck with a projection for three hikes in the coming year.  In her final scheduled press conference before before stepping down on Feb. 3, Chair Janet Yellen said she would do her utmost to ensure a smooth transition for her nominated successor, Jerome Powell.
How to make a bike. Darron Sven Coppin makes beautiful, bespoke bicycles at his workshop in Weymouth, U.K., a seaside town on the English Channel. Each bike takes him six weeks to build, but they'll last you a lifetime.

Quotes from this Article
Before it's here, it's on the Bloomberg Terminal.
LEARN MORE