markets
Yellen Declares Job Market Victory in Her Final Press Conference
By
Labor economist long-focused on slack has vanquished it

'We are in the vicinity of full employment,' Fed chair says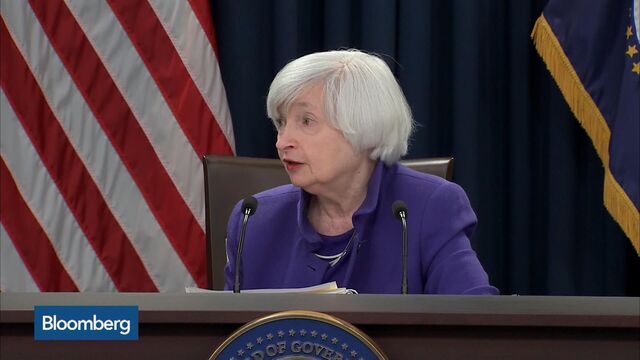 Federal Reserve Chair Janet Yellen marked her final press conference by declaring that the U.S. economy is reaching a crucial milestone.
Yellen, a labor economist who has led the U.S. central bank since 2014, made healing the nation's recession-scarred job market a cornerstone of her tenure. In her post-monetary policy meeting remarks on Wednesday in Washington, she declared the patient healthy.
"We are in the vicinity of full employment," Yellen said, piling on after the Federal Open Market Committee changed the language in its post-meeting statement to predict the employment situation will "remain strong," rather than their previous "strengthen somewhat further."

That means Yellen will hand Jerome Powell, nominated to take the Fed's helm when she steps down on Feb. 3, a healthy employment situation. Yellen did allow that jobs could post a few more months of gains before moderating, and "the labor market is not overheated at this point."
But she took a victory lap in describing America's broad labor outlook at a time when unemployment stands at 4.1 percent and the participation rate has stabilized, a sign that people are pouring back into the workforce in spite of demographic headwinds.
"We've got a good, strong labor market," Yellen said. "That's been tremendously important to the well-being of American households, and workers."
Before it's here, it's on the Bloomberg Terminal.
LEARN MORE