Trump Congratulates Alabama Democrat, Moore Remains Silent
By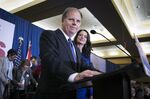 President Donald Trump called the newly elected senator from Alabama, Democrat Doug Jones, to congratulate him on his victory and invite him to the White House, even as the Republican candidate has yet to concede.
"It was a very gracious call, I very much appreciated it," Jones said of the Wednesday conversation with Trump. "We talked about finding that common ground to work together."
Roy Moore, the Republican candidate who was accused of inappropriate sexual contact with teenagers when he was in his 30s, said in a statement Wednesday night he is waiting for a final counting of ballots, including​ military and provisional, as well as certification of the election results from Alabama's Secretary of State.
Jones won the Tuesday election with 49.9 percent of the vote to Moore's 48.4 percent, with all precincts reporting. Jones's victory cuts the GOP's advantage in the Senate to 51-49, giving Democrats greater leverage in Congress.
"We are indeed in a ​struggle to preserve our republic​, our civilization​, and ​our religion and to set free a suffering humanity," Moore said. "​And the battle rages on."
During a 40-minute news conference in Birmingham, Alabama, Jones said he didn't think the allegations against Moore were the main issue affecting the outcome in the Republican-dominated state.
Jones also said Wednesday he spoke with several of his future Senate colleagues, including Senate Majority Leader Mitch McConnell of Kentucky, Senate Minority Leader Chuck Schumer of New York and Alabama's senior senator, Republican Richard Shelby.
'Move On'
If Moore were to call, Jones said his message would be to "do the right thing" and that it's time to "move on."
"Most people, including the president, believe that the people of Alabama spoke and after elections it's a time for healing, it's a time for reaching out," Jones said.
Jones, 63, the first Democrat elected to the Senate in Alabama in a quarter century, said his campaign helped strengthen the Democratic Party's infrastructure in the state for future elections.
"We're on the road to having a competitive, two party state, without one party domination," Jones said.
Jones credited his success Tuesday night to running a race that focused on his record, on Alabama and on "kitchen table" issues like health care rather than national political issues or Moore's controversies. He said that his focus on reaching across the aisle is also a message both parties should embrace.
"This election shows that people across the country want to see people work together," Jones said. "When the people of Alabama elect a senator who runs on a platform of trying to find common ground and reaching across the aisle, I think that's a message that both political parties should take heed."
Before it's here, it's on the Bloomberg Terminal.
LEARN MORE