Tisch Says 'Sad Truth' Is Lack of N.Y. Republicans in Tax Debate
By
N.Y. resident laments few in Congress who can 'look after us'

Loews chief joins chorus of executives warning on taxes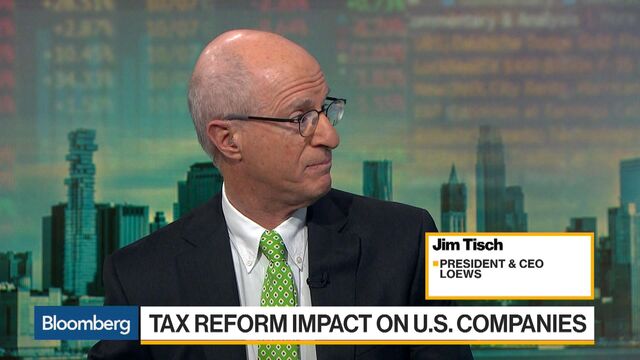 The dearth of Republicans representing New York in Congress is partly to blame for the proposed eliminations of state and local tax deductions that will dramatically impact the state, said Jim Tisch, chief executive officer of Loews Corp.
"New York doesn't have very many Republican representatives, and no Republican senators, so guess what, we're not represented in this tax bill," Tisch said Wednesday in a Bloomberg Television interview. "That's the way it is, that's the sad truth."
He joined a chorus of Wall Street executives including Ray Dalio and Ken Moelis that have said an elimination of SALT deductions could have unforeseen impacts on states including California, New Jersey and New York, and that the population could change dramatically because of it. National Economic Council Director Gary Cohn said last week that the White House is working on tweaks to the legislation, which has sought to limit individual deductions to $10,000 and eliminate those for income taxes.
California Governor Jerry Brown said in a Bloomberg Television interview Tuesday getting rid of SALT deductions is a "terrible war" on his state that was meant to "punish California for voting for Hillary Clinton." He said the same of New York, Illinois and other states that have made an effort to raise their income tax.
"It's not punishment," Tisch said. "It's the result of not having a bipartisan delegation from those states in the House and in the Senate that could look after us."
Still, 16 of the 28 GOP members of the House from New York, New Jersey and California voted for the tax bill. That includes four New York Republicans -- Claudia Tenney, Tom Reed, John Katko and Chris Collins.
Tisch, a New Yorker who served as finance chairman for the Republican candidate for mayor in 2013, has been involved with businesses and organizations throughout the city including the Partnership for New York City and is a trustee of Mount Sinai Hospital.
— With assistance by David Westin, and Alix Steel
Before it's here, it's on the Bloomberg Terminal.
LEARN MORE