Court Blasts Zuma, Orders 'State Capture' Inquiry to Proceed
By
Zuma argument that only he can set up inquiry dismissed

Ombudsman found Guptas may have influenced Zuma's decisions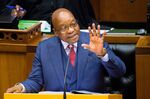 South Africa's High Court ruled that a commission of inquiry into allegations that President Jacob Zuma allowed the Gupta family to influence state decisions be set up within 180 days, as the graft ombudsman ordered last year, dealing Zuma a third legal blow in less than a week.
The court rejected Zuma's arguments that he alone can set up the commission and ordered him to pay the cost of the case, Judge Dunstan Mlambo said on Wednesday in Pretoria. Public Protector Thuli Madonsela said in November last year that Chief Justice Mogoeng Mogoeng should set up the inquiry because the president had a conflict of interest.
Zuma's action in seeking to overturn the recommendation was "ill-advised and reckless" and the application was a "clear non-starter," Mlambo said in a unanimous ruling of the court.
Madonsela had ordered an inquiry into allegations that the Guptas may have influenced the appointment of cabinet members in Zuma's administration and received special treatment for a coal business linked to the family and Duduzane Zuma, the president's son. Zuma and the Guptas have denied wrongdoing.
Zuma's ruling African National Congress welcomed the court decision.
'Without Delay'
"The judicial commission of inquiry will provide everybody with an opportunity to tell their side of the story," the ANC said in a statement. "We therefore trust President Jacob Zuma will act in accordance with this judgment without delay in the interest of our country."
The ruling follows a decision by the same court last week that the chief prosecutor, who had challenged an opposition party bid to have separate corruption charges against Zuma be reinstated, must vacate his position. It said Deputy President Cyril Ramaphosa should appoint a replacement as Zuma was "conflicted." Earlier on Wednesday, Mlambo ordered that Zuma personally pay for a court attempt to halt the release of the ombudsman's report last year.
"The decision that the president was reckless resonates with my own view of how the president dealt with this matter," Madonsela told reporters after the judgment. "The allegations that the state has been captured in the interests of his family and friends is a serious allegation and must be investigated immediately."
Before it's here, it's on the Bloomberg Terminal.
LEARN MORE