Scaramucci Defends Skybridge Deal After Buyer HNA Faces Fire
By and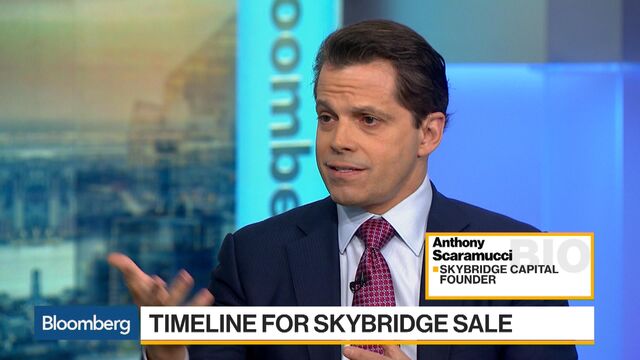 Anthony Scaramucci, the former White House aide who's selling his stake in SkyBridge Capital to China's HNA Group Co., said he still believes the deal will close days after another acquisition target made accusations that HNA misled U.S. national-security officials.
"I'm obviously an eternal optimist and believe the deal will close," he said in an interview on Bloomberg Radio Wednesday. "I don't see any national security reason why it wouldn't close. That's what the statute says. So hopefully we'll get some news on that shortly."
Asked why the deal, announced in January, hasn't closed, Scaramucci responded, "You'd have to call the Treasury department for that."
Two HNA units were sued last week in New York state court by a U.S. technology company that HNA had agreed to buy. The company, a unit of Ness Technologies, said the Chinese conglomerate repeatedly gave false and inconsistent information earlier this year about its ownership structure to U.S. officials tasked with reviewing the sale.
According to the complaint, HNA kept revising information in response to questions from officials at the Committee on Foreign Investment in the U.S., which reviews foreign acquisitions of American businesses for risks to national security. CFIUS sought information about HNA's corporate structure, ownership and relationships with the Chinese government, according to the filing.
HNA Government Ties
HNA made material changes to the notice filed with CFIUS, at one point revealing ties to the Chinese government that weren't previously disclosed, Ness Technologies said in the complaint. The panel never began the formal review of the deal, and Ness terminated it in December.
An HNA spokesman said the lawsuit filed by Ness is "baseless and without merit," and that the company will "vigorously defend against it."
CFIUS would want to understand the true ownership of HNA to determine whether it is a government-controlled entity, said Brian Fleming, a lawyer at Miller & Chevalier in Washington who previously worked at the Justice Department's national-security division.
Collapsed Deals
A number of Chinese takeovers have collapsed this year in the face of security concerns raised by CFIUS. One was HNA's investment in an in-flight entertainment and internet-services provider.
If it's true that HNA wasn't forthcoming with CFIUS, that would make getting approval for future deals tougher, said Fleming.
"It certainly does not bode well for future prospects of any acquisitions that would go before the committee," he said.
Though Scaramucci said he didn't know the details of its other deals, he said he has confidence in HNA and called them a "world-class" conglomerate.
"I would be very hard pressed to understand why it wouldn't clear," Scaramucci said in an interview with Bloomberg TV later Wednesday.
— With assistance by Jonathan Ferro, and Tom Keene
Before it's here, it's on the Bloomberg Terminal.
LEARN MORE