More Chip Stock Tumult Fuels Rising Skepticism on Tech for 2018
By
Goldman, Strategas among firms downgrading tech shares

Growth's decade-long winning trend seen as big risk to FAANG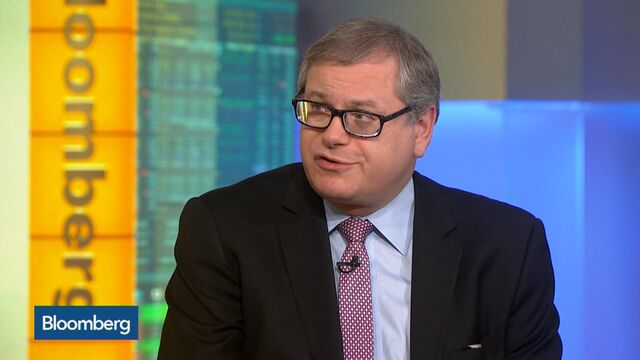 You may have noticed the pain trade in technology stocks hasn't quite come to the peaceful end many were hoping for. Led by another selloff in semiconductors, the group saw a five-day advance halted Tuesday in a Trump trade rotation that bore resemblances to past reversals.
Investors should get ready for more of the same in 2018, if a growing chorus of equity forecasters is to be believed.

Strategists are turning wary on 2017's best-performing stocks, with Goldman Sachs and Strategas Research downgrading the industry over the past month. Citigroup just touted banks overtaking tech as one of the firm's top equity themes for the new year, while Morgan Stanley warned over potential trouble from internet giants such as Facebook and Amazon.
Garden-variety advice on positioning? Sure. But it's worth noting that Wall Street is now bracing for the end of a trade that has done in the past 12 months what some thought was impossible: make fund managers look smart next to their passive indexing rivals.
A common thread in the deteriorating sentiment lies with President Donald Trump, whose tax reform and trade policy focuses on domestic companies, not tech firms with their global footprint. Once the fiscal stimulus kicks in and the economy strengthens, the analysts argue, a decade-long winning streak will be jeopardized.
"Interest rates, earnings, and nominal economic growth should all rise next year as a result of the tax bill about to be signed into law," Jason Trennert, co-founder of Strategas Research, wrote in a note Friday, cutting tech to market weight from overweight. "Perhaps more important for investors, we believe it might be time for portfolios to be more fully tilted to value rather than growth issues."
Such a shift was on display Tuesday when chipmakers led an industry retreat while a rally in banks lifted major indexes to fresh highs. The divergence resumed a pattern from two weeks ago, when money flew out of tech stocks and pushed the Philadelphia Semiconductor Index to its worst days of 2017.
Sticking with tech stocks, an industry whose returns since January are almost twice the S&P 500's, is one reason why fund managers are heading for their best year since 2009. While the group has suffered repeated selloffs, each time the carnage proved brief.
To David Kostin, Goldman's chief equity strategist who reduced his tech rating to neutral from overweight last month, the downgrade had little to do with the industry's fundamentals. Sales growth at computer and software makers is still solid, running at a rate that's double the rest of the S&P 500.
But as policy shifts, so is each industry's relative attractiveness. Financial and industrial shares stand to benefit more from lower taxes and easier regulations, Kostin wrote in a Dec. 8 note, defending his call on tech stocks.
Citigroup's Tobias Levkovich says increasing scrutiny on privacy and online tax sales adds to pressure for tech companies while rising inflation bodes well for value stocks.
"The equity market typically needs one group that can drive overall share prices and a handover from the information technology sector to financials makes eminent sense," he wrote in a note. "Client positioning may have more to go in this direction."

Growth stocks have held an edge over their value counterparts since 2006 as the slowest economic expansion since World War II prompted investors to embrace companies with the best profit outlooks. A reversal in the trend is one big macro hurdle that the FAANG block of Facebook, Apple, Amazon, Netflix and Google's parent Alphabet faces in 2018, according to Morgan Stanley analysts including Benjamin Swinburne. 
"While we believe that fundamental drivers for these stocks remain intact, history indicates returns may moderate their pace and we question whether growth over value can continue to be as meaningful a driver of returns," the analysts said.
Quotes from this Article
Before it's here, it's on the Bloomberg Terminal.
LEARN MORE