Moore's Loss Spells Trouble for Republicans
By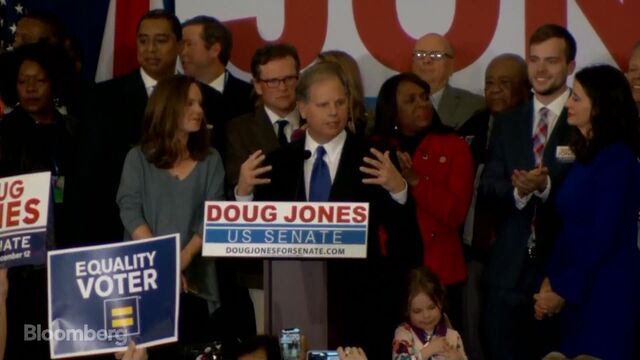 Want to receive this post in your inbox every morning? Sign up for the Balance of Power newsletter, and follow Bloomberg Politics on Twitter and Facebook for more.
Republicans will be doing everything they can now to put failed Senate candidate Roy Moore behind them. Democrats have no intention of letting them.
President Donald Trump's support for Moore — an alleged sexual predator — is sure to become a central theme of Democrats' 2018 campaign message. That's despite Moore's upset loss yesterday to Doug Jones in Alabama, a state that hadn't elected a Democratic senator in 25 years and has consistently backed Republican presidential candidates for four decades.
Signs of the strategy were evident when Democratic women senators came to the defense of colleague Kirsten Gillibrand after Trump called her a "lightweight" who would "do anything" for campaign donations following her call for him to resign over sexual misconduct accusations. The spat fueled Democrats' effort to bring fresh attention to allegations against the president and paint Republicans as hostile toward women.
Key questions are to what degree the reduction of the Republicans' Senate majority to one seat will complicate Trump's legislative agenda and whether Democrats can translate this victory into more wins in Republican strongholds in November.


Global Headlines
The brass tacks on taxes | How would a Manhattan homeowner with a $2 million salary fare under House- and Senate-passed versions of tax legislation? What about a renter in Milwaukee making $40,000? Those are two of eight scenarios that financial planner Tim Steffen lays out as Trump prepares for a speech today at the White House that's meant to be his closing argument in the still-unresolved tax debate.
Britain's Brexit battles | U.K. Prime Minister Theresa May's flagship Brexit bill is back in Parliament today and it looks likely the government might lose the vote. Pro-European Conservatives are lining up with the opposition Labour Party to ensure lawmakers get a final say on the terms of the divorce. May's defeat could make a softer Brexit more likely.
UN peacekeeping under fire | United Nations peacekeeping operations are coming under unprecedented pressure: militiamen in the Democratic Republic of Congo killed 15 "blue helmets" this month in the deadliest assault on UN forces in a quarter-century while the Trump administration is pressing for deep budget cuts. The organization may be moving toward a future where creaky peacekeeping missions with large footprints in collapsing countries such as Congo and South Sudan are no longer the norm.
Russian meddling counter punch | Republican claims that the U.S. Justice Department's Russia probe is biased will have a fresh target today when Deputy Attorney General Rod Rosenstein appears before a House panel. Donald Trump Jr. yesterday demanded an investigation into leaks stemming from his testimony to a separate House committee as the White House tries to defend its interactions with Moscow.
"Let's just meet" | U.S. Secretary of State Rex Tillerson raised eyebrows when he floated meeting North Korea officials without preconditions, such as agreeing to give up their nuclear weapons. "We can talk about the weather if you want," he said. Tillerson, however, appeared to be describing ice-breaking talks that wouldn't touch on the nuclear issue. The White House played down any notion of a policy shift.
And finally... Groucho Marx once said politics is the art of looking for trouble. New York Mayor Bill de Blasio and City Council Speaker Melissa Mark-Viverito have found it in a playground named for the comedian and his brothers on Manhattan's Upper East Side. The two officials support a developer's $1 billion proposal to build a skyscraper on land where kids have played ball for generations. Henry Goldman looks at a local rebellion.

— With assistance by Karl Maier
Before it's here, it's on the Bloomberg Terminal.
LEARN MORE