Modi's Got Data to Boast About Before His Home State Votes Thursday
By
Gujarat has consistently seen low inflation over years

Stabilization of GST will allow a study of inflation drivers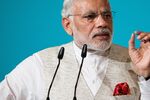 Prices in the western Indian state of Gujarat -- where Prime Minister Narendra Modi's party faces a close election Thursday -- are rising at among the slowest paces in the country even as overall inflation zoomed past the central bank's target.

To be sure, it's a continuing trend and some states like Gujarat have been enjoying relatively low inflation for years, said Dharmakirti Joshi, an economist at Crisil Ltd. in Mumbai. One reason could be that states tax goods like petroleum products differently and it will be easier to identify the differentiation once India's new unified taxation system settles down, he said.
The State That Made India's Narendra Modi Could Break Him
Understanding the drivers of inflation will go a long way in helping the Reserve Bank of India identify if price pressures are entrenched or transitory. Inflation expectations are currently based on past experiences of households, while policy depends on forward-looking inputs.
India's goods and services tax, rolled out in July, imposes a single levy on similar products across states, though some key goods such as petroleum and alcohol are excluded from the new tax regime's ambit.
Before it's here, it's on the Bloomberg Terminal.
LEARN MORE