Mexico Finance Chief Doubles Down on 'Prudent' Policy Approach
By and
Former deputy finance minister focused on providing continuity

Gonzalez Anaya says law puts clear limit on electoral activity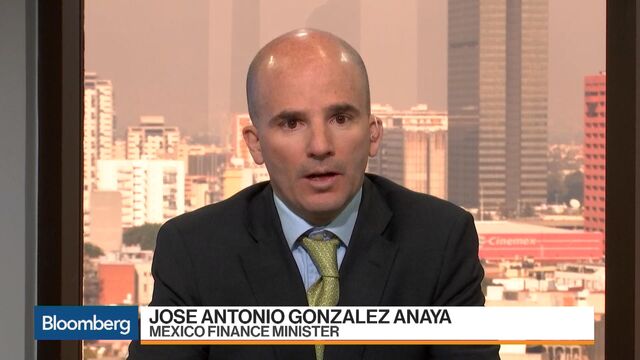 Mexico's government wants the economy to grow faster, but won't sacrifice its budget goals for next year to help make it happen, the nation's finance minister said on Wednesday.
Jose Antonio Gonzalez Anaya said his instructions from President Enrique Pena Nieto are to provide continuity and prudent fiscal policy after taking over last month for Jose Antonio Meade, who left to run for president with the ruling Institutional Revolutionary Party, known as PRI.
Gonzalez Anaya's mandate comes at a delicate moment for Mexico's economy with inflation running at more than double the central bank's 3 percent target even after a hurricane and two earthquakes led to a contraction in the third quarter. The PRI is looking to retain power in next year's elections amid public outrage over insecurity and corruption, but the finance minister emphasized that the law limits his institution's role in politics.
"The ministry of finance doesn't do electoral politics," Gonzalez said in an interview with Bloomberg TV. "For us it's very important to signal and tell everyone we'll continue on our course with sound macro-policies for the course of 2018."

Mexico plans a primary surplus for this year and next after almost a decade of deficits. The nation has been cutting spending to stabilize its debt burden, winning improved outlooks from S&P Global Ratings and Fitch Ratings Ltd.
The central bank last month reduced its 2017 growth forecast to a range of 1.8 percent to 2.3 percent, citing the impact of the natural disasters on oil production and services sector growth, as well as and uncertainty related to talks to overhaul the North American Free Trade Agreement.
Gonzalez said the government expects growth of 2.2 percent for this year.
"We would like to grow faster," he said. However, "for us it's very important to signal and to tell everyone we will continue in our course with sound macro policies for the course of 2018."
Central Bank
Banco de Mexico is also undergoing a leadership change, with new Governor Alejandro Diaz de Leon presiding over his first key rate decision on Dec. 14 after taking over from Agustin Carstens. Analysts expect Banco de Mexico to raise interest rates to dissuade investors from withdrawing capital after the peso weakened to a record low in January.
Asked if the currency is undervalued, Gonzalez said he's learned from his previous job as head of state-owned oil company Pemex not to discuss market prices.
"The exchange rate is what it is, and what we have to do is take the necessary course of action for the best measures for the economy," he said.

The central bank forecasts inflation to slow to near its 3 percent target next year.
"That will provide room, but we will have to see," he said, when asked about the possibility for Banxico lowering interest rates.
Gonzalez said he will "without a doubt" seek next year to hedge Mexico's oil export prices for 2019. He added that the Pemex board has instructed the company to hedge its own oil exports. Mexico buys put options from a small group of investment banks each year to lock in average export prices in what's considered Wall Street's largest -- and most secretive -- annual oil hedge.
Gonzalez came to the finance ministry after almost two years as chief executive of Petroleos Mexicanos.
— With assistance by Michael McKee
Before it's here, it's on the Bloomberg Terminal.
LEARN MORE