Macron Picks Old Rival to Steer His Vision Through EU Minefields
By
Leglise-Costa is France's new ambassador to the Europe Union

Macron named the career diplomat to push his reform agenda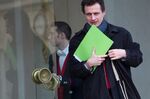 One way to win Emmanuel Macron's trust is to take him on.
Macron regularly tussled with Philippe Leglise-Costa when they were vying for influence in Francois Hollande's inner circle between 2012 and 2014.
Leglise-Costa was the technocrat negotiating line-by-line on everything from farming to immigration to Greek debt. Macron, an economic adviser, was seeking buy-in even then for his vision of the future of the European Union.
Now the career diplomat is point man in the president's efforts to steer plans for an EU renaissance through the minefields of Brussels.
"There were two very distinctive lines on Europe, one embodied by Macron and one by Leglise-Costa" said Ramon Fernandez, head of the French Treasury at the time and now CFO of Orange SA. "I have no doubt that Leglise-Costa will be able to defend the president's vision now. He's an excellent expert. And the political line is clear."
The renewed partnership will make its debut at the year-end leaders' summit that begins Thursday in the Belgian capital, with Brexit and a brand new continental defense program on the agenda. Leglise-Costa will have no shortage of work in his new role -- French officials expect the president's broader program of reforms to take almost a decade to push through.
Warrior-Monk
In some ways, France's new ambassador to the EU is the antithesis of his boss.
While the president is a networker and a strategist who thrives in the spotlight, Leglise-Costa is nervous, understated, sharp and shy: a warrior-monk according to one French official who's known him for 20 years.
When the wiry 51-year-old went for an obligatory medical check-up before moving to Brussels the doctor asked whether he ran marathons. In fact, the only marathons he has ever engaged in have been diplomatic. He once worked through an EU-record 22 hours of unbroken talks as member states thrashed out their response to the financial crisis. Leglise-Costa declined to comment for this story.
The banker-turned-president was still in high school honing his dramatic talents when the ambassador was helping to negotiate the Maastricht Treaty in 1992 as a junior diplomat. Leglise-Costa then worked his way up the French diplomatic corps over 25 years, carving out a speciality in EU policy and earning a reputation of toughness along the way. Macron recognized that depth of experience when he nominated his former rival to his new post last month.
"He's certainly the one who knows Europe best," Macron said in his first public tribute to the diplomat. The president asked all his ministers "to consult with Leglise-Costa as often as possible" with EU policy a central pillar of his plans for his presidency.
'Exactly Right'
Behind closed doors, the new hierarchy has taken some getting used to for Leglise-Costa, who still occasionally refers to "Monsieur Le President'' as "Emmanuel.''
Germany's ambassador to France, Nikolaus Meyer-Landrut, was EU affairs adviser to Chancellor Angela Merkel when Macron and Leglise-Costa were jostling at the Elysee Palace, and dealt with them regularly. The French diplomat isn't a hardliner, he says, he is "hard-working and loyal."
"In this job you have to know how to be tough, it's not a walk in the park," he said in an interview, banging the arm of his chair with his fist. "Leglise-Costa is in exactly the right role.''
That steadfastness will be needed over the next couple years as the talks over the U.K.'s future relationship with the EU come to a head. Both Leglise-Costa and his boss are determined that the terms of Britain's departure shouldn't dominate the agenda in Brussels.
The Macron Plan
Macron set out his own plans for the EU in a wide-ranging September speech at the Sorbonne in Paris. He wants to see more integration on matters including defense, migration, universities, intelligence-gathering, asylum seekers, clean energy, terrorism, tax and technology.
But most of all, he wants to lay the foundations for more financial integration of the euro area, so that Europe can punch its weight on the world stage.
"The Europe we know is too weak, too slow, too ineffective,'' Macron said. "Europe needs to be an economic and monetary power.''
Such rhetoric provokes suspicion in member states like the Netherlands and Poland, as well as in Germany. Leglise-Costa's job will be to turn that vision into the technical clauses that EU agreements are built from. And to secure the funds to back it up.
"He knows how to conduct a negotiation in a civil way without losing the sight of what his mission is,'' Johannes Laitenberger, the European Commission's director general of competition said in an interview. "He knows to strike a sensible compromise when he sees it. But if you're sitting across the table from him, you'd better be fully prepared."
— With assistance by Mark Deen
Before it's here, it's on the Bloomberg Terminal.
LEARN MORE