Rosenstein Says He Sees No Cause to Fire Special Counsel Mueller
By and
Committee chairman says investigations must not be 'tainted'

Democrat says Trump makes 'dangerous' moves undercutting probe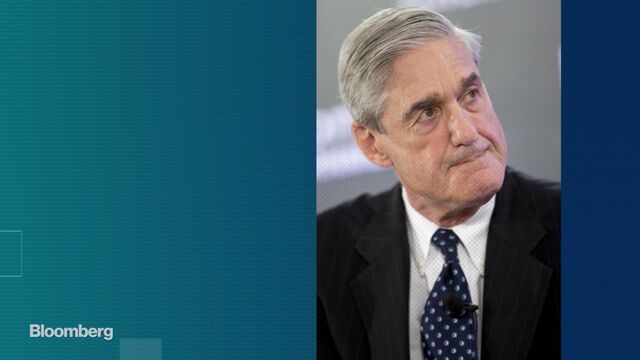 Deputy Attorney General Rod Rosenstein stood by Robert Mueller in the face of Republican demands to fire him as special counsel or name a second one to investigate what they portrayed as a deep anti-Trump bias within the ranks of the Justice Department and the FBI.

Republicans on the House Judiciary Committee bombarded Rosenstein at a hearing Wednesday with examples that they said showed the investigation into Russian interference in last year's presidential campaign was fatally flawed. The move reflected an increasing determination by Republican lawmakers to discredit Mueller as his probe has moved closer to the White House with indictments of former aides and advisers to President Donald Trump.
"The special counsel's investigation is not a witch hunt," Rosenstein told the committee when asked about a term Trump has used in tweets disparaging Mueller's inquiry into whether anyone close to the president colluded with the Russians. Defending Mueller, Rosenstein said, "If I thought he was doing something inappropriate, I'd take action."
Republican lawmakers cited messages, meetings and examples of campaign contributions involving people with roles in the Mueller inquiry that they said showed resistance last year to Trump's election and support for his rival, Democrat Hillary Clinton, even as she was under investigation for using private email when she was secretary of state.
'Political Prejudices'
"Justice Department investigations must not be tainted by individuals imposing their own political prejudices," said House Judiciary Chairman Bob Goodlatte of Virginia, who was among those calling for a second special counsel. "We are now beginning to understand the magnitude of this insider bias on Mr. Mueller's team."
Trump, too, has seized on some of these questions, writing on Twitter that the FBI's reputation is "in tatters."
Rosenstein said he has discussed the issue with Mueller and "we will ensure that no bias is reflected in any of the actions taken by the special counsel or in any matter within the jurisdiction of the Department of Justice."
But Rosenstein -- who appointed Mueller and has sole authority to fire him -- declined to answer some questions, saying matters under investigation are confidential and that he's waiting for an investigation by the department's inspector general to conclude.
Representative Jerrold Nadler of New York, the Judiciary Committee's top Democrat, denounced the Republican efforts to challenge the Russia inquiry, saying, "President Trump has engaged in a persistent and dangerous effort to discredit both the free press and the Department of Justice."
Here are the three main issues raised by Republicans during the hearing:
Anti-Trump Texts
Republicans seized on the disclosure that a top FBI agent assigned to the investigation, Peter Strzok, sent anti-Trump texts in personal exchanges with another FBI official last summer.
Goodlatte said Strzok called Trump an "idiot" and that the messages showed high-ranking FBI officials "were personally vested in the outcome of the election."
Saying it was time to disband Mueller's investigation, Republican Jim Jordan of Ohio said that Strzok, who was a top FBI counterintelligence agent at the time, wrote in one message that "there's no way" Trump gets elected but "we can't take that risk." In another message he said, "I can protect our country at many levels."
"This guy thought he was super-agent James Bond at the FBI," Jordan said.
Republican Senate Chuck Grassley of Iowa, who heads the Senate Judiciary Committee, tweeted that the "FBI owes answers" on the issue. "FBI CAN"T BE POLITICAL," he wrote.
Strzok was reassigned during the summer after Mueller learned of his messages. Rosenstein said the matter is among questions the inspector general is reviewing. In January, the inspector general's office said it was investigating "whether certain underlying investigative decisions" before last year's election "were based on improper considerations."
The Dossier
Republicans pushed Rosenstein to explain whether a dossier with unverified allegations against Trump, some of them salacious, was used as the sole justification to open the Russia investigation and obtain surveillance warrants under former FBI Director James Comey, who was fired by Trump in May.
A senior Justice Department official, Bruce Ohr, had connections to Fusion GPS, the opposition-research company that created the dossier, which was largely financed by Clinton's campaign.
Court papers made public on Tuesday confirmed that Ohr's wife was paid by Fusion GPS for work tied to Trump. In a federal court affidavit, Glenn Simpson, the firm's founder, confirmed that he met with Ohr last year, at Ohr's request, in November after the election. Ohr was demoted last week.
Rosenstein declined to comment on matters involving the dossier. Jordan told reporters after the hearing that "it's time for subpoenas from our committee" because "basic facts seemed to elude the deputy attorney general."
Campaign Donations
Republican Steve Chabot of Ohio cited contributions to Democratic campaigns by nine members of Mueller's staff, asking Rosenstein, "How with a straight face can you say this group of Democratic partisans are unbiased and will give President Trump a fair shake?"
Rosenstein replied that while "recognizing people have political views," he and Mueller agreed those opinions must not be allowed to affect an investigation.
Democratic Representative Ted Lieu of California cited contributions to Republican candidates by top Justice Department officials, including current FBI Director Christopher Wray and Associate Attorney General Rachel Brand. Lieu called the Republican focus on campaign donations a "silly argument" that reflected "the desperation that some people have" about the Mueller investigation.
Rosenstein also declined to answer several other questions from Republicans, including whether Mueller is looking into the personal finances of Trump family members. "We just don't talk about what's under investigation," Rosenstein said.
Read a QuickTake Q&A on Understanding the Trump-Russia Saga
Only Rosenstein has the authority to fire Mueller because Attorney General Jeff Sessions, who was a senior adviser to Trump's campaign, recused himself from the investigation.
Several congressional committees have been looking into aspects of the Russian meddling, which U.S. intelligence agencies have found was intended to hurt Clinton and ultimately help Trump win. But initial efforts to produce consensus have largely dissolved amid partisan maneuvering. Only the Senate Intelligence Committee has managed to maintain a mostly bipartisan agenda.
'Tawdry' Attacks
Judiciary Committee Democrat Zoe Lofgren of California said before the hearing that Republican attacks on the FBI and Justice Department officials are "tawdry" and an effort to "pre-discredit evidence" from Mueller's probe.
"It's pretty apparent what they are trying to do," she said.
Rosenstein gave Mueller a broad mandate to investigate any links or coordination between the Russian government and individuals associated with Trump's campaign, as well as any matters that may arise directly from the investigation.
To date, Mueller has indicted Trump's former campaign chairman Paul Manafort and another campaign aide, Rick Gates. The special counsel also secured a plea deal and cooperation agreement from Trump's former National Security Adviser Michael Flynn for lying to FBI agents about his contacts with Russians. A low-level foreign policy adviser to the campaign also pleaded guilty to lying to investigators. 
Asked whether a second special counsel is needed, White House press secretary Sarah Sanders told reporters Tuesday, "If we are going to investigate things, let's look at something where there's some real evidence." She said Trump "has great concern about some of the conduct that's taken place."
— With assistance by Margaret Talev
Before it's here, it's on the Bloomberg Terminal.
LEARN MORE