Al Franken's Senate Replacement Is Minnesota Lieutenant Governor Tina Smith
By
Governor to appoint Democrat Tina Smith when Franken Leaves

Minnesota will now have two Senate seats on ballot in 2018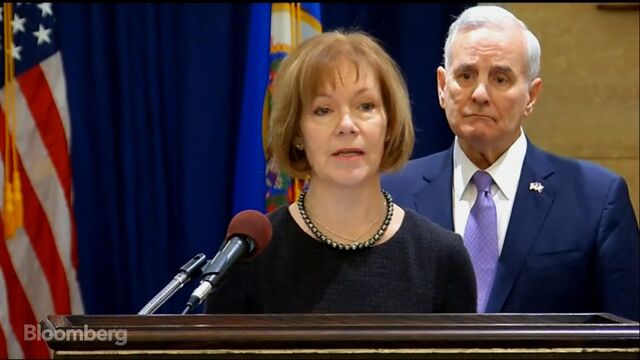 Minnesota Governor Mark Dayton said he will appoint Lieutenant Governor Tina Smith to fill the U.S. Senate seat of Democrat Al Franken when he formally resigns amid sexual harassment allegations.
Smith is "extremely intelligent, quick to learn, yet always open to hearing others' views," the Democratic governor said Wednesday. The appointment will keep the seat in the Democratic column through a special election in November 2018. Smith said she expects to take office in early January and that she'll run to serve the rest of Franken's term through January 2021.
Smith told reporters at a news conference in Minnesota she will be "a fierce advocate in the United States Senate for economic opportunity and fairness." She praised Franken as a "champion for our state" and thanked him for his service.
Franken said Dec. 7 that he will leave the Senate in coming weeks. He made his decision after more than half of his Democratic colleagues in the chamber demanded he step down following accusations he groped or forcibly kissed several women.
Franken, a leader of his party's liberal wing who was seen as a potential 2020 presidential candidate, is one of the latest men in a high-profile position to be brought down amid a shift in U.S. culture that increasingly treats sexual misconduct with zero tolerance. Franken disputed many of the allegations, but said he didn't think he could effectively represent Minnesotans if he stayed and underwent an Ethics Committee investigation.
Smith became lieutenant governor in 2015 and has focused on economic issues including expanding rural broadband service and broadening access to early childhood education. She led a multibillion-dollar public-private partnership to make Rochester, Minnesota, a center for health-care delivery -- an effort designed to create as many as 45,000 jobs in the southeast portion of the state.
Earlier, Smith served as Dayton's chief of staff. In that role, she managed the daily operations of the state government and led an effort to streamline use of government documents and granting permits. Before working with Dayton, she was chief of staff for Minneapolis Mayor R.T. Rybak.
The November 2018 special election will fill the Senate seat through the end of Franken's term in January 2021. Minnesota will now have two seats on the ballot next year because incumbent Democratic Senator Amy Klobuchar will be up for re-election.
Before it's here, it's on the Bloomberg Terminal.
LEARN MORE