Five Things You Need to Know to Start Your Day
Get caught up on what's moving markets in Asia.
By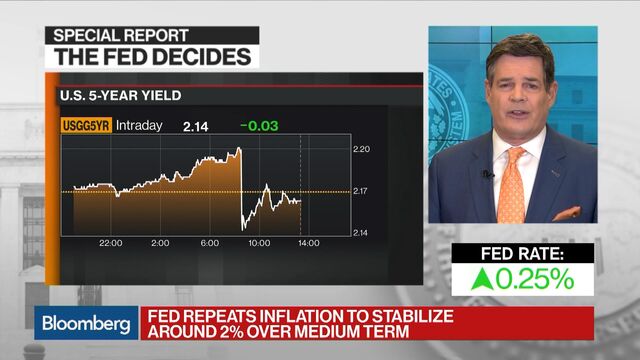 Want to receive this post in your inbox every morning? Sign up here.
The Fed hikes rates, America gains allies targeting China trade practices, and the global cost of Beijing's drive to curb smog. Here are some of the things people in markets are talking about.
The Fed Speaks
As expected, the Fed raised interest rates as well as their economic growth forecast for the new year. They stuck with a projection for three hikes in 2018, also widely anticipated.  Policy makers confirmed that monthly roll-offs from the central bank's balance sheet would step up, as scheduled, to $20 billion from $10 billion beginning in January. Investors largely took Chair Janet Yellen's final press conference to be dovish, as Treasuries caught a bid and the dollar slid as she reiterated that growth isn't seen translating into price pressures anytime soon. The outcome should be heartening to Asian borrowers and dollar bond investors, who can expect another year of record issuance as long as central bank policy normalization doesn't proceed significantly faster than expected.
China Trade Battle 
Leaders from the U.S. and other nations sent a warning to China this week when it comes to trade. At the World Trade Organization meeting in Buenos Aires, the U.S., European Union and Japan agreed to target excess capacity in important industries and called on countries to curb state financing, a clear warning to President Xi Jinping that they're losing patience with its state-driven model. The push comes at a delicate time for the global economy and security in Asia, where the U.S. wants Beijing's cooperation to thwart North Korea's nuclear program.
Beijing Smog Is Costing Everyone
China's war against smog is lifting energy prices all over the world. Policies promoting natural gas use have not only helped boost China's consumption by 19 percent this year, they've made the nation the world's second-biggest importer of liquefied shipments of the fuel, lifting prices for spot cargoes. Spot LNG prices in Northeast Asia rose this week to $10.05 per million British thermal units, the highest level since January 2015, and Newcastle coal futures on ICE Futures Europe are up 15 percent over this time last year. Reducing a reliance on coal-powered energy is key to China's push to curtail smog, and it has been working, though with some problems in implementation. Goldman Sachs estimates that in Beijing the air quality has improved 41 percent relative to the historical trend. 
Tax Reform Gets Closer
House and Senate Republicans are getting close to a deal on compromise legislation to overhaul America's tax code, President Trump said Wednesday. So starts the final push to get the bill signed into law before the Christmas holiday. Republican lawmakers reached a deal in principle on the legislation earlier on Wednesday, but the bill's advance is clouded by the result of the Senate special election in Alabama, where Republican Roy Moore lost to Democrat Doug Jones. The Senate's top Democrat, Chuck Schumer of New York, called for Majority Leader Mitch McConnell to delay a vote on the tax bill until Jones is sworn in, which won't happen until later this month or in early January. That would reduce the GOP's majority in the Senate to 51-49. Republicans have other plans though, and hope to vote on the bill soon, before Alabama officials can certify the result of the election and while they can still afford two defections by Senate Republicans. That would provide Trump a much-needed political victory, even though polls show the legislation is unpopular among most Americans.
Markets Rise
Treasuries rallied and the dollar slid post-Fed, while the S&P 500 couldn't hold onto gains in the late session, closing in the red for the first time in five days. The rates curve aggressively steepened in the aftermath of FOMC decision, consistent with flattener unwinds. Earlier, data showed U.S. consumer inflation picked up in November, though the so-called core gauge unexpectedly slowed. On the European front, the ECB is expected to reveal details of plans to taper asset purchases on Thursday. Comments on the outlook for 2018 will be the focus for investors as they weigh the impact of coming policy normalization on global asset prices. Meanwhile, crude reversed direction and slid below $57 a barrel after the U.S. Energy Information Administration reported that production is rising to keep up with falling inventories. Gold rose with most industrial metals. on the data docket, Asia has Australian consumer inflation expectations and November jobs data ahead, while Japan reports Nikkei manufacturing PMI for December and China gives us November retail sales and industrial production.
What we've been reading
This is what caught our eye over the last 24 hours.
Before it's here, it's on the Bloomberg Terminal.
LEARN MORE