Cameron Decries Trump's Attacks on the Media
By
Cameron says Trump is diverting attention from real abuses

Former official was giving speech to anti-corruption group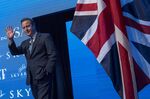 Former British Prime Minister David Cameron joined the chorus criticizing U.S. President Donald Trump for his tirades against journalists. 
In his first public speech since stepping down after his failed attempt to win a vote to stay in the European Union last year, Cameron said Trump was corrupting society and diverting attention from real abuses through his attacks on outlets like CNN and the BBC. 
"President Trump: 'fake news' is not broadcasters criticizing you, its Russian bots and trolls targeting your democracy, pumping out untrue stories day after day, night after night," Cameron said at an anti-corruption lecture hosted by Transparency International and law firm Clifford Chance in London. 
Cameron championed the fight against corruption and pushed through legislation strengthening the hand of law enforcement officials. Now, he said, the problem is worsening. 
The growth of populations living in fragile states, the abuse of new technologies, predatory tactics by anti-democratic states, and misinformation such as that spread by Trump are driving this negative trend, Cameron said.
Before it's here, it's on the Bloomberg Terminal.
LEARN MORE