Fox's Workaround for Troubled Sky Takeover? Get Disney to Buy It
By , , and
Deal with media giant could help surmount regulatory hurdles

Phone-hacking, harassment allegations have dogged Fox bid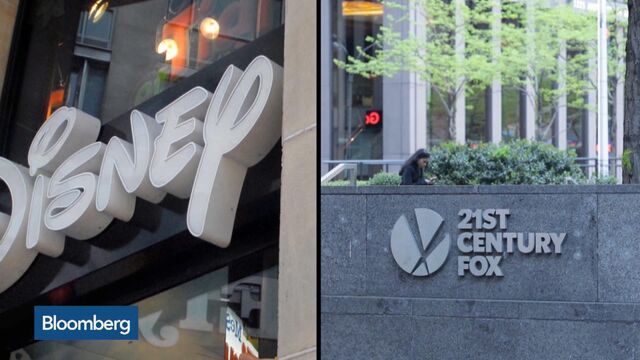 21st Century Fox Inc. appears to have a workaround for its beleaguered takeover of Sky Plc: get Disney to own it.
Walt Disney Co. is set to announce the purchase of a big chunk of Fox's empire as early as Thursday. This will allow Fox, which bid for all of Sky a year ago, to bypass the tedious process of getting its offer through a U.K. government, wary about the Murdochs controlling Britain's premier broadcaster.
The Murdochs' Fox remains obligated under U.K. rules to continue its pending offer for control of Sky. Yet the likelihood of Disney, not Fox, eventually owning Sky may help persuade the U.K. government to approve the transaction since officials know it would end up in the hands of an owner less encumbered by historical and -- at times -- controversial ties to the country.
"Compared to Fox, it's a no-brainer" for Disney to take over Sky unimpeded, said Steven Barnett, a professor of communications at the University of Westminster. "Disney has a wholesome brand image, which is not exactly something you can say about the Murdochs."
When Fox offered 11.7 billion pounds ($15.7 billion) for the 61 percent it didn't already own of Sky, Executive Chairman Lachlan Murdoch expressed confidence the deal would close this year. To sidestep competition concerns, the Murdochs had reorganized their U.K. news business, which was the center of a hacking scandal that scuttled their first attempt to buy out Sky in 2011.
Long memories of the hacking debacle and fresh harassment allegations at Fox News armed Murdoch critics in the latest bid effort. Culture Secretary Karen Bradley ordered rare extensive reviews to scrutinize the influence of Rupert Murdoch's companies over the country's media and whether they'd be committed to unbiased broadcasting. The process has dragged on for months, with investigations by the communications regulator and antitrust watchdog. A final report from the Competition & Markets Authority is due in March.
Disney, based in Burbank, California, doesn't have the media footprint in the U.K. to warrant similar investigations and isn't subject to Murdoch control. Disney as the ultimate owner of Sky also rids Prime Minister Theresa May of an unpopular situation that's become tougher for her minority government to sell, with Brexit generating enough negative headlines.
Read more on Disney's Fox deal and what we do and don't know here
Regulatory approval around the world for Fox's transaction with Disney will probably take about a year, according to a person familiar with the discussions. That means that regulators would likely decide whether to approve a Fox deal for control of Sky long before the Disney deal is consummated, said the person, who asked not to be identified because the information is private.
The U.K. government has said the regulatory review of Fox's takeover of Sky will continue while Fox remains committed to the deal. At Fox's annual meeting last month, Lachlan Murdoch said he was confident the Sky deal would ultimately be approved next year, citing clearance from the European Commission and optimism the CMA will follow Ofcom's view that it shouldn't be blocked.
While Disney's ownership of Sky would be smiled upon, winning approvals for the broader deal with Fox -- valued at $60 billion including debt -- will be tougher, said Alice Enders, head of research at Enders Analysis in London. Antitrust authorities in the U.S. and Europe will look at whether Disney's clout could let it extract higher payouts at the box office and the European Commission's ongoing pay-TV investigation makes competition concerns more likely, she said.
In the U.K., there's also a wild card: Fox Chief Executive Officer James Murdoch's future. He will probably be offered a senior position at Disney, which has anti-Murdoch activists poised for another potential fight.
"Defeating the Murdochs' Sky bid would be a huge victory for people-power and democracy," said Alex Wilks, campaign director at political advocacy group Avaaz, which has fought Fox's bid for Sky. "But they're a wily family and we'll stay on watch. Disney shouldn't give James Murdoch the keys to their magic kingdom until they've looked hard at all the scandals in companies he's run."
Before it's here, it's on the Bloomberg Terminal.
LEARN MORE