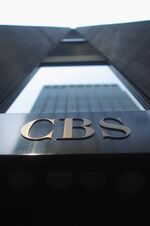 One year ago, media mogul Shari Redstone made the surprise decision to scrap plans for recombining CBS Corp. and Viacom Inc. -- and oh, what a year it has been. 
In the time since, all their rivals have been on the move, including the biggest, Walt Disney Co., which is in talks with 21st Century Fox Inc. over a $60 billion partial acquisition that may be announced as soon as Thursday. Discovery Communications Inc. is also linking up with HGTV's parent Scripps Networks Interactive Inc., as Time Warner Inc. and AT&T Inc. head to court to defend their own pending megamerger.
As for the Redstone empire, CBS seems to be just moseying along, while Viacom is only starting to potentially regain its footing, as programming changes at MTV provide a much-needed ratings boost. But even though CBS managed to fly under the M&A radar this year, it's unlikely that the $23 billion TV-network operator comes out of 2018 without a deal of its own -- and not necessarily with Viacom.
Here are three logical options:
1. The Hollywood route: Lions Gate. The debate over content versus distribution has shifted into one over content versus ad-supported networks. Take Disney: It's making a tremendous bet that having more content is the way to win as its TV networks -- while still the company's profit center -- come under pressure because viewers are switching to cheaper internet-streaming packages (Disney is also launching one of its own). CBS is a network operator. It will have four million subscribers for its CBS All Access and Showtime streaming services by the end of the year, making the company a little less dependent on advertising, but it still doesn't have a major film studio. Buying Lions Gate Entertainment Corp. would solve this, as well as give it a business that's even more highly valued by investors. Disney is combining its own studios with Fox's to gain a more than 30 percent share of this year's domestic box office, while AT&T is trying to get control of Warner Bros., and Viacom is working to rebuild the Paramount studio. Lions Gate, in addition to an almost 9 percent box-office share, also owns the growing Starz premium cable network.

2. Going vertical: Verizon. The No. 1 U.S. wireless provider has not-so-secretly thought about a content acquisition along the lines of its rival AT&T's deal for Time Warner. CBS is among those with whom Verizon Communications Inc. CEO Lowell McAdam has said he'd be willing to engage. Plus, it's the one potential deal that's truly financially feasible, as opposed to his musings about a Disney or Comcast Corp. merger. McAdam may not make a move until the judge in the AT&T-Time Warner case decides whether to allow that transaction (the trial begins March 19). The other carriers have also linked up with content/streaming players via partnerships. T-Mobile US Inc. has one with Netflix Inc., while Sprint Corp. struck one with Hulu. Comcast, the owner of NBCUniversal and cable and internet packages, is dabbling in wireless services as well, which shows there may be more value in the long run by putting content and distribution under one roof, especially as more binge watching happens over the internet. Whether this potential mass consolidation of power is good for consumers is another story, and I'm not sure I can picture Les Moonves, CBS's chief, working for Verizon, but stranger things have happened this year. After all, who would've thought Disney would cook up a deal that may give the Murdoch family a big stake?

3. Keeping it in the family: Viacom. A year ago, Shari Redstone decided it wouldn't be the right strategic move to put CBS and Viacom back together, and maybe she was right. Starting from scratch with a turnaround of Viacom's networks would have been too much of a distraction for CBS. But now that CEO Bob Bakish has made a small bit of progress, there's hope that Viacom can dig its way out of the ratings and debt doldrums. Perhaps a reunion could be a way for CBS to gain more millennial-driven content and a bigger international footprint (one of the draws of the Disney-Fox deal) -- plus it would provide CBS with a film studio. Viacom is still a fixer-upper, but these are assets CBS knows and at one time shared a home with. It's also gotten very cheap, with Viacom's market value dipping to under $12 billion this year, leaving it with a lower valuation relative to Ebitda than every one of its peers but AMC Networks Inc.

Decisions over both companies' futures rest with Redstone, 63, who has taken the place of her ailing, 94-year-old father, Sumner Redstone, following a power struggle that bested any MTV reality-show drama and which continues to play out in the media. As she considers her family's legacy and as cord-cutting and streaming turn the TV industry topsy-turvy, securing a deal for CBS -- the Redstones' crown jewel -- has to be a priority. 
Before it's here, it's on the Bloomberg Terminal.
LEARN MORE