Britain in Dogfight to Retain Warplane Supremacy
By
Brexit threatens to fracture decades-old defense partnerships

Qatar deal boosts BAE Systems, but Saudi order still vital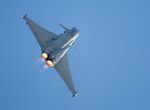 From the World War I-vintage Sopwith Camel through the iconic Spitfire to the Harrier jump jet, Britain has been a leading player in warplane production almost since the advent of aviation.
But with stuttering sales of the latest Eurofighter Typhoon model forcing job cuts at U.K.-based BAE Systems Plc, Europe's biggest defense company, and the upheaval of Brexit straining defense pacts, that heritage may count for little.
France and Germany are already exploring fighter options that could omit the U.K., their partner in past collaborations including the Jaguar and Tornado. And while Qatar's sign-off Monday on a near $7 billion Eurofighter contract with BAE should hand the plane a lifeline and reinforce the company's credentials within the four-nation consortium, a bigger deal from Saudi Arabia remains elusive.
"Things are fluid to say the least," said Douglas Barrie, a military-aerospace specialist at the International Institute for Strategic Studies in London. "Countries are trying to work out what they want from a next-generation fighter, which is confusing enough, but throw in the strain on relations from Brexit and there's at least a risk that the U.K. will be excluded."
The situation has become more acute as governments move toward combining the region's three current offerings -- the Eurofighter made by BAE, Airbus SE's German and Spanish arms and Italy's Leonardo SpA, together with the French Rafale, and the Gripen from Sweden's Saab AB -- into a single program to bring down costs and enhance cooperation.
Obvious Leader
As a key player in Eurofighter, BAE had seemed to be the obvious leader of an enlarged consortium, especially since it had already worked with France's Dassault Aviation SA -- maker of the Rafale -- on the Taranis drone, seen as a blueprint for a new breed of unmanned warplane. Since last year's referendum, though, the apparent inevitability of that position is in doubt.

The level of European disquiet became clear in June, when Airbus warned that while a single jet was indeed likely to be developed to satisfy future needs, Britain's role wasn't guaranteed. Fernando Alonso, its head of military aircraft, told Bloomberg that Brexit made the future "difficult to see" and might mean that the next fighter would be "more continental."
Franco-German Pact
Then a month later French President Emmanuel Macron and German Chancellor Angela Merkel announced a new warplane accord, with Britain conspicuously absent. The plan, which calls for the countries to produce a road-map next year for joint development of an aircraft to replace existing fleets, paves the way for reintegrating France into Eurofighter after it quit the nascent program in the mid-1980s to produce the rival Rafale. Barrie said that at least two other nations may be looking at joining -- with the U.K. not among them.
In comments to Bloomberg, BAE pointed to its past history of partnerships and "world-leading capabilities" as indicating likely involvement in future programs. At the same time, two senior managers last month told the House of Commons defense committee that the U.K. must work to preserve military and industrial links through the turmoil of Brexit.

Bob Keen, BAE's head of government relations, highlighted the importance of future collaboration, particularly in Europe, while Chris Boardman, managing director of the company's military-aircraft business, said told lawmakers it's crucial to look beyond the Typhoon era -- "and don't be complacent."
Harry Breach, an aerospace analyst at Raymond James in London, said that while he expects BAE to be brought into the Franco-German discussions, Britain should not underestimate the ability of Dassault -- best known for its Mirage series of fighters -- to act as an alternative prime contractor.
Budget, Exports
BAE's strongest card may ultimately be the scale of Britain's defense budget and military commitments, which mean the country would inevitably play a major role in funding a future combined program, were it to be part of one.
The company itself has also eclipsed its partners in marketing the Eurofighter outside Europe, racking up 108 such sales, versus 28 for Leonardo and Airbus.
This week's confirmation of the 24-aircraft Qatari order came as a timely reminder of BAE's reach, especially since earlier deals for 25 Rafales and 36 Boeing Co. F-15s led some experts to doubt that the Persian Gulf state would stand by the transaction. The contract will stretch Eurofighter production "further into the 2020s" according to BAE, though won't be enough to save 750 U.K. jobs already due to be cut as production rates slow.
At the same time, a deal to supply Saudi Arabia with 50 or more Typhoons remains on hold, and may even be less likely to go ahead following the deal with Qatar, which the kingdom has sought to isolate over alleged links to Iran.
To be sure, BAE has other irons in the fire. The company has established an alliance with Turkey to develop the nation's first home-built fighter, the TFX. Powered by the same engines as the Typhoon, the plane would be guaranteed around 250 domestic orders and also target export sales.
More significantly, BAE is also the main partner on Lockheed Martin Corp.'s F-35 fighter, the world's biggest warplane program, with a work-share of 15 percent from production of the rear fuselage and tail, as well as cutting-edge fuel, electronic-warfare, life-support and crew-escape systems.
Exclusion from European cooperation could push BAE further in the direction of the U.S., and even revive speculation about a trans-Atlantic merger. That might be good news for investors, but it would spell the end of a century-long era during which the company and its forerunners have spearheaded fighter design.
"The risk is that they become a glorified supplier," Barrie said.
— With assistance by Christopher Jasper
Before it's here, it's on the Bloomberg Terminal.
LEARN MORE