Brexit Won't Soften U.K. Financial Crime Fight, Prosecutor Says
By and
Serious Fraud Office Director David Green spoke to lawmakers

Green is due to leave role in April after high-profile term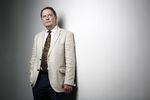 The U.K. is likely to keep up its strengthened approach to fighting financial crime after leaving the European Union, according to the departing top prosecutor.
Authorities are firmly committed to cracking down on fraud and corruption since previous Prime Minister David Cameron made it a policy priority, Serious Fraud Office Director David Green said Wednesday to a committee of lawmakers in London.
"People are aware that there is quite an aggressive enforcement regime," Green said. "It's particularly important, in the context of Brexit, we're going to need inward investment and to attract the inward investment we need to show the world we have a level playing field and that we are a rule-of-law jurisdiction. So there won't be any let up, I'm sure, on enforcement."
Green is due to leave his role in April after six years during which he oversaw several ambitious cases. That includes putting interest rate rigger Tom Hayes behind bars, a 500 million-pound ($667 million) settlement with engine maker Rolls-Royce Holdings Plc and fraud charges against Barclays Plc and four former senior executives.
Green said the SFO will try to resolve its investigation into G4S Plc and Serco Group Plc by the time he leaves office. The conduct the agency is investigating has changed somewhat, Green said, adding that he expects developments on the case in the next few months.
The government on Monday announced that the SFO would remain open, despite a much-criticized campaign promise by Prime Minister Theresa May to fold it into the National Crime Agency, which focuses on organized crime networks. The NCA will in future be able to direct the SFO to investigate a matter, something Green said he had no objections to. The government advertised the director's job on Tuesday.
Green said he is satisfied that the SFO's 35.7 million-pound core budget is sufficient. The agency is able to increase that through so-called blockbuster funding, which Treasury grants for the biggest cases. While Green said the model works, he added that he would prefer the balance of funding to be tipped further towards core rather than blockbuster.
During his tenure, Green has argued for improvements in the law, including taking steps to ensure that companies are more responsible for any wrongdoing committed by their employees when furthering the business's interests. Green on Wednesday said he had reconsidered his position on whether juries are the best method to rule on complex fraud and bribery cases, a significant departure from English legal custom.
"I've moved from a position of being completely against to sort of agnostic," Green said. "I can see it's highly controversial, so I'm sitting firmly on the fence at the moment, but I've moved from being entirely pro-jury."
Green was also asked about a recent controversy around an expert witness the agency used in its Libor trials. Saul Haydon Rowe asked friends for help during breaks in his testimony, undermining his evidence and breaching court rules. Witnesses aren't supposed to speak to anyone about the case while testifying.
While Green said he couldn't discuss the matter in light of a pending judgment in an appeal by one of the convicted Libor traders, he told the committee the SFO was "certain that we brought to his attention to his duties" as an expert.
Before it's here, it's on the Bloomberg Terminal.
LEARN MORE