Brexit Bulletin: Retreat or Defeat
By
Rebels in May's Conservative Party demand a vote on final Brexit deal

Barnier warns the U.K. he will be alert to any backsliding on promises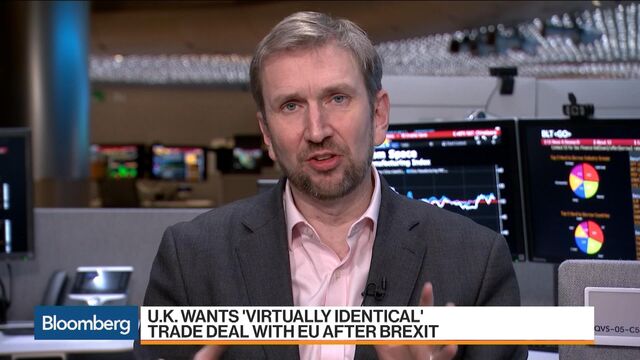 Sign up to receive the Brexit Bulletin in your inbox, and follow @Brexit on Twitter.
Will she surrender or risk defeat?
U.K. Prime Minister Theresa May is facing another painful Brexit dilemma: give in to rebels in her Conservative Party and let Parliament vote on the final Brexit deal, or face a potentially damaging loss over the issue.
Tory lawmakers are lining up to defy May's orders on Wednesday and vote for an amendment to her flagship Brexit law, Tim Ross and Robert Hutton report. They want Parliament to be given a "meaningful vote" on the final Brexit treaty—and are seeking to guarantee this in the text of the bill.

With no automatic majority in the House of Commons, the premier is facing a potential setback. Lawmakers from the Conservatives, as well as the opposition Labour, Liberal Democrats, Scottish National Party and Plaid Cymru, signed a joint statement last weekend backing the call for Parliament to vote on the final accord.
Brexit Secretary David Davis wrote to Conservative lawmakers assuring them they would get plenty of chances to vote. It remains to be seen whether that will be enough.
A retreat, or a parliamentary defeat, would be damaging for May just as she heads back to Brussels on Thursday for the EU summit, where she expects to get the green light for the start of talks on the future trade relationship between Britain and the bloc. The mood of the summit has already been slightly soured by perceived backsliding on the U.K. side on the commitments it signed up to last week in order to secure the breakthrough in talks.
Michel Barnier, the EU's chief Brexit negotiator, said the bloc would be alert to any efforts by the U.K. to unpick the deal, Ian Wishart reports.
"We will be vigilant; we will not accept any backtracking from the U.K.," Barnier told reporters in Brussels on Tuesday. "I would recommend everyone remains cautious."
His warning came after Davis sowed uncertainty about how binding the U.K. considered the deal, which covered the key areas of the divorce bill, citizens' rights and how to keep the Irish border as invisible as possible after the split. Davis on Sunday said it was "more of a statement of intent than it was a legally enforceable thing." By Monday it was "of course legally enforceable," and on Tuesday he said that it needed to be "converted into legal text as soon as possible."
The European Parliament, which has a veto on the final Brexit accord, took the highly unusual step of naming Davis personally responsible for risking "the good faith that has been built during the negotiations" in a motion that will be voted on Wednesday. There's a clear sense the EU side doesn't really trust the U.K. much.
Brexit Latest
Talks Timing | The EU expects to have its offer of a possible two-year transition period ready to present to the U.K. by the end of January, and is prepared to start talking about the future trade partnership by the end of March.
Westminster Day | The Brexit Committee hears from Airbus U.K. senior vice president Katherine Bennett, among others. Brexit ministers Steve Baker and Robin Walker will be questioned by the House of Lords Constitution Committee at 9.45 a.m.; the Business Committee hears from JD Wetherspoon Plc Chairman Tim Martin and representatives of Nestle SA and Diageo Plc at 10 a.m.
Warplane Dogfight | From the iconic Spitfire to the Harrier jump jet, Britain has been a leading player in warplane production almost since the advent of aviation. But Brexit is straining defense pacts and the heritage may count for little, Tom Seal reports. France and Germany are already exploring fighter options that could omit the U.K. "Countries are trying to work out what they want from a next-generation fighter, which is confusing enough, but throw in the strain on relations from Brexit and there's at least a risk that the U.K. will be excluded," said Douglas Barrie, a military-aerospace specialist at the International Institute for Strategic Studies in London.
Amsterdam Reality | As Amsterdam is set to gain from Brexit, and gain in population too, locals are raising the alarm over a further tightening of an already difficult property market, Ellen Proper reports. The city only has about 1,000 houses and apartments of any kind for sale, and prices are hitting record highs. The Dutch capital was picked as the new base of the European Medicines Agency and authorities in the city of about 850,000 are trying to lure fintech firms, banks and companies to move regional operations from London. 
Tailor-Made | The EU and U.K. need a "tailor-made" model for their future relationship, but the first move has to come from the U.K., Italian Prime Minister Paolo Gentiloni said in an interview with the Financial Times.
Read more: This English Town Backed Brexit. Now the Poles Are Leaving
And Finally...
While many chefs say Brexit is already killing their business, Marcus Wareing, the Michelin-starred celebrity chef, says there may be a silver lining. Britain will now have to build its own future, and, without readily available foreign labor, will have to do things differently. "We Brits have got to get out of bed and work maybe a little bit harder," he told the BBC. "I think it's going to make us better employers."
For more on Brexit follow Bloomberg on Twitter, Facebook and Instagram
Before it's here, it's on the Bloomberg Terminal.
LEARN MORE