Weak German Wage Gains Leave ECB Waiting for Inflation Spark
By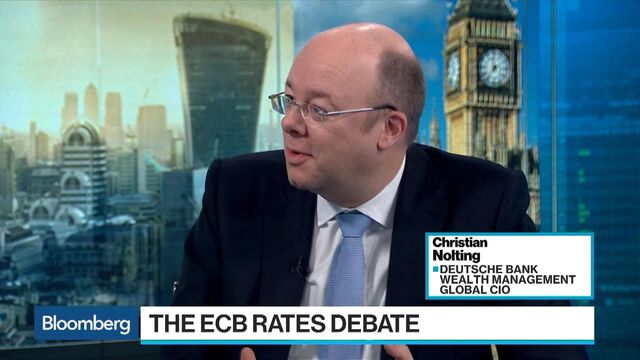 Wages in Germany are picking up -- but only just.
An index of negotiated wages rose 2.3 percent in 2017 from the previous year, according to a preliminary estimate of the Federal Statistics Office in Wiesbaden. The gain is the highest of the past three years but still lags behind the salary increases recorded in 2012-2014.

Pay raises in Europe's largest economy are being closely watched as a key element to spur the sustainable pick-up in inflation that ECB President Mario Draghi wants to see before withdrawing monetary stimulus. The Governing Council meets Thursday in Frankfurt for its last policy-setting meeting of the year.
Theoretically, the country's buoyant economy and record-low unemployment should push salaries up, but a tradition of restraint in pay demands and weak inflation in recent years have reduced the pressure. In fact, real wages -- which take inflation into account -- rose at the slowest pace since 2014 this year.
The moderate increase in pay, coupled with a stronger euro, may spell some trouble ahead for German consumers, who have been one of the drivers of the recovery in past years thanks to a mix of almost-stagnant prices, cheap oil and low ECB interest rates.
Yet, a turning point could be approaching.
"Wage inflation is rising in several member states," said Mark Wall, Deutsche Bank's chief European economist. "A pick-up in inflation in the important German wage settlements in the first quarter could change perceptions. We expect wage growth to exceed its five-year trailing average."
The index published Tuesday includes one-off payouts such as holiday and Christmas bonuses, incentives and severance payments. Excluding those elements, the index rose 2.8 percent.
Quotes from this Article
Before it's here, it's on the Bloomberg Terminal.
LEARN MORE