Markets Lulled by Draghi's Jedi Mind Trick Risk Hawkish Jolt
By
Euro could advance to $1.19 on a less dovish ECB tone: Nordea

Central bank staff forecasts may peg inflation closer to goal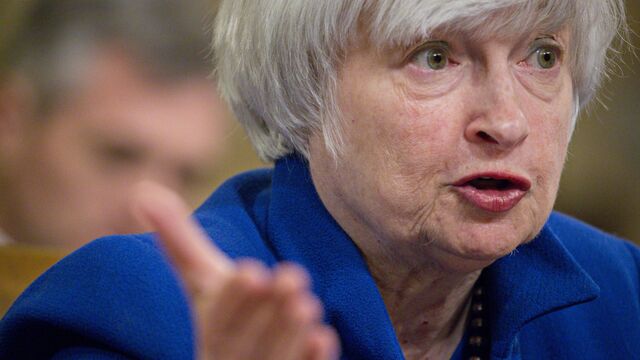 Investors may be underestimating Mario Draghi's ability to deliver a hawkish message and rattle the markets just before the year ends.
Deutsche Bank AG and BNP Paribas SA warn that markets aren't fully pricing the risk of the European Central Bank sounding less dovish at its meeting on Thursday, even as Citigroup Inc. says President Draghi may use "his Jedi mind trick" as before to keep a lid on volatility. Nordea Bank AB sees scope for the ECB to push the euro and bond yields higher. Also in focus are the central bank's inflation forecasts, which could project the pace of price increases closer to target, and the composition of next year's asset purchases.

"Risks are tilted toward a slightly hawkish interpretation of Draghi: slightly higher yields and a stronger euro," Nordea strategist Jan Von Gerich, who sees the currency pushing $1.19 from around $1.18 currently, wrote in a note to clients. "Draghi may not sound overly dovish."
The euro is this year's best performer among major currencies, buoyed by the currency bloc's economic rebound. Still, markets aren't currently pricing in an interest-rate increase by the ECB until 2019, with the central bank's 30-billion-euros ($35 billion) per month asset-purchase program set to run until at least September next year. Option-market sentiment remains bullish on the shared currency, with so-called risk reversals trading in favor of call contracts.
Here's a selection of analyst views on the ECB's final meeting of 2018:
Bank of America Merrill Lynch
Weak euro-area core inflation complicates the ECB's job; December forecasts will be tricky, communication may turn difficult, write strategists including Athanasios Vamvakidis
Bank is bearish front-end rates as it will be increasingly difficult to anchor expectations, when the commitment to QE wanes
No ECB impact on EUR for now; EUR/USD to weaken in 1Q on the back of U.S. tax reform and pricing of more Fed hikes
Deutsche Bank
"The ECB will end the year more hawkish than currently priced and real rates are likely to rise," strategists led by Francis Yared wrote in a note to clients

Favors entering a short EUR 10y swap on the view that ECB pricing isn't hawkish enough and that there's scope for a wider term premium

"Our view of upside risks to rates rests on expectations of a further recovery in inflation," writes Jack Di-Lizia
"We see the risks tilted toward short-end rates rising more quickly than implied by forwards"
BNP Paribas
"We expect the Fed and the ECB to revise up their 2018 outlooks. So the Eonia curve looks too flat," writes strategist Laurence Mutkin

"The tone will be less dovish, with the ECB no longer linking its quantitative easing purchases to inflation developments, implying the end of QE and a faster depo normalization process"

Recommends paying EUR 1y1y eonia at -25.5bp and on any move at -28.5bp; target: -15/-12bp; stop: -31bp
Nordea
Expects ECB to announce an increase in the share of corporate bonds bought under the asset-purchase program, at the expense of sovereigns, according to Von Gerich

Allows the central bank some flexibility in case it needs to extend QE

The benign market reaction following the October announcement of the asset-purchase cut "allows Draghi to sound more balanced this time in his comments"
Citigroup
"New staff forecasts provide the biggest conversation point and 2020 HICP should be near 1.8%," writes strategist Harvinder Sian
"That keeps the short end anchored for a few more months but under the hood we see a need for the ECB to update its forward guidance to better reflect the stellar growth performance"
"It is apt to think that Draghi will again perform his Jedi mind-trick on the markets to deliver another low-volatility outcome, despite the growth backdrop"
JPMorgan AM
"We expect little excitement from the ECB meeting this week. The path for QE has been set until September of next year and we think the ECB will be true to their word and keep rates where they are at least until after QE has come to an end," strategist Mike Bell says in emailed comments
"The near-term outlook for the euro is more likely to be determined by the Fed and any further news on the tax bill than by the ECB. However, the ECB will become more crucial for the euro as we move into the middle of next year and markets start to look ahead to the end of QE and the speed at which the ECB will then look to raise rates"
Before it's here, it's on the Bloomberg Terminal.
LEARN MORE