politics
Merkel Gives Strongest Support Yet for Macron's EU Overhaul Drive
By and
Chancellor hails 'historic necessity' to reinvigorate Europe

Merkel wants quick conclusion to coalition talks with SPD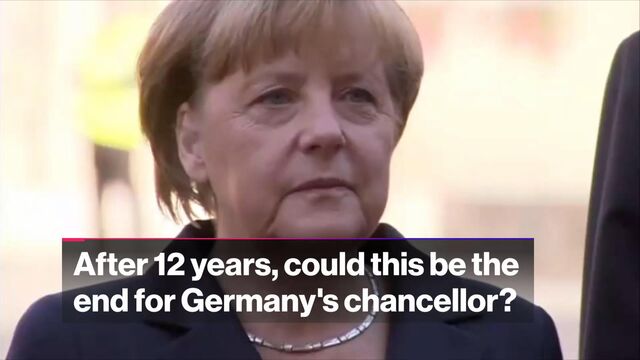 German Chancellor Angela Merkel said the European Union must push ahead with deepening integration next year if the bloc is to have meaningful influence on the global stage, her clearest backing yet for a reform drive championed by French President Emmanuel Macron.
Merkel said she wanted talks to form another coalition government with the Social Democrats to be concluded quickly so that Germany can help France to propel EU reforms forward before the process is interrupted by European elections in 2019.
Europe is the best vehicle "if the EU member states want to have any influence at all over geopolitical developments," Merkel told a news conference in Berlin on Monday after a meeting of her party leadership. "I believe that is a historical necessity and I don't think I am exaggerating when I say the world is waiting for us to be able to act."
How Macron and Merkel are working in private to rebuild Europe
The drive to seize the narrow window for EU reform is likely to be a key point of contention in the coalition talks due to begin on Wednesday between Merkel and Social Democrat leader Martin Schulz. Schulz has aligned the SPD fully behind Macron's initiatives to strengthen the EU, including calls for a euro-area budget and an EU finance minister, while many in Merkel's Christian Democratic Union-led bloc are wary of further integration, seeing it as code for German financial support for what they regard as fiscally spendthrift governments.
Asked if she fears missing a historic chance to reform Europe, Merkel said she was confident that Germany would be able to "react in a concrete way" to Macron's proposals for increased powers for the EU. She also expressed her support for a reworking of the so-called Elysee Treaty laying out joint cooperation between Germany and France that would deepen ties between the two nations. The redrafted text is due to be presented in January.
"I consider a stable government is the basis on which we can best work with France and with Europe," Merkel said.
The comments amount to Merkel's most explicit backing for Macron's reform drive, even if she doesn't necessarily support all of his proposals.
The chancellor said she supported Macron's proposal to develop joint corporate taxation between Germany and France by 2025, as well as bringing rules on defense exports into line and addressing the role of "political Islam" in the two countries.
"We do not see in many areas a common EU foreign policy and it would be better if Europe spoke with one voice," Merkel said. "Europe does not only need a stronger economic and monetary union but we must also have a Europe of security and the rule of law, internally and externally."
Before it's here, it's on the Bloomberg Terminal.
LEARN MORE