Technology
Who's Watching Facebook TV?
Four months in, the service is winnowing its lineup to pump up production budgets for fewer shows.
By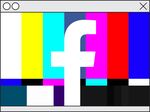 When it's 4 a.m. and you're jet-lagged, it seems as good a time as any to check out Facebook's idea of television. A 10-minute video of Bill Murray clowning around in an astronomy classroom. Seven minutes of a reality-show couple arguing about getting their young son a pet snake. Three minutes of animated arachnids explaining how female spiders ward off unwanted sexual advances. It's enough to send even an exhausted insomniac looking for a more productive use of time.
Facebook Watch is the company's nascent effort to carve out a dedicated space on its service for videos—just videos—of several minutes to half an hour or more. That may not sound radical, but it would offer users a big shift from their typical Facebook habit, a mindless scroll through all kinds of personalized flotsam with a rare pause to watch a few seconds of video in the feed. Facebook Inc. wants its 2 billion users to think of Watch as an entertainment destination, with web series compelling enough to bring people back for weekly installments packaged with ad breaks, just like conventional TV.
The company has yet to hit on the right formula. After four months, it's already rejiggering its strategy, winnowing dozens of would-be shows and pumping up production budgets for those that remain. It's a more targeted plan than last year's experiments with Facebook Live, but several days of wallowing in Watch videos suggests that, for now, it's almost as unruly. There are a lot of videos indistinguishable from YouTube offerings, a little cable TV, a dash of Netflix, and pinches of classic Facebook.
Facebook Vice President of Product Fidji Simo says the Watch programming and ad strategies are evolving as the team and its partners get a better idea of the kinds of shows that will draw people together. "We're a company that iterates a lot," she says. "We're going to have to figure it out with partners." The company wouldn't share viewership numbers.
Watch is a separate page on Facebook's website and a separate tab in its app, each denoted by a logo of a play button on a screen. Publishers including BuzzFeed, Cosmopolitan, and National Geographic produce the videos, with Facebook paying the bills for a few. Judging from a sample of dozens of Watch videos, however, they seem less than carefully selected. A 90-second New York Times tutorial on searing steaks appeared next to a pro video game match that ran for three hours. For every legitimately cool clip—say, football player Marshawn Lynch smooshing a car with a tank—there's a cringeworthy Bachelor ripoff.
Among the highlights was Strangers, a fictional series about a 30ish Los Angeles woman working through an identity crisis with the help of people who rent her spare room. Mostly the programs were … fine. Few touched on news events or other unpleasant realities. "It's Facebook trying to figure out what form of video people want to watch," says Debra Aho Williamson, an analyst for researcher EMarketer.
The offerings so far illustrate that Facebook's determination to shift toward video, long a priority for Chief Executive Officer Mark Zuckerberg, is meant to grab more ad money. But besides the bottom line, Watch is also part of Zuckerberg's promise to make Facebook a home for what he calls "meaningful social interaction." The idea is that people who love surfing, for example, can bond over Watch's surfing videos. Morgan Stanley estimates that Watch could grab the average North American Facebook user's eyeballs for about 20 minutes a day next year. But so far, there's little evidence of that virtual water cooler effect.
Facebook's efforts are joining a crowded scrum, with traditional networks trying to embrace online video, Netflix and Amazon investing heavily in their own programming, and shows sort of like what's on TV coming from YouTube, Apple, Twitter, and Snapchat. (Bloomberg LP, the owner of Bloomberg Businessweek, is developing a global breaking-news network for the Twitter service.)
An executive at a company that creates programs for Facebook Watch says most of the viewers aren't new and instead are existing fans of his brand. The executive, who requested anonymity to discuss the partnership, says he's annoyed that Facebook used publishers as guinea pigs before figuring out how to sell ads against the videos. During our days of sampling Watch videos, not a single ad appeared. Simo says that while most Watch viewers see the videos in their standard news feeds, rather than using Watch to find new stuff, changing audience habits takes time.
It's oddly comforting that even Facebook hasn't quite figured out its video future. A dose of Strangers now and then might be comforting, too. But for now, at least, it's no substitute for a football game. On TV.
BOTTOM LINE -
A few months in, Facebook Watch is cutting down on its original programming to make pricier shows. At this point, that seems like a good call.
Before it's here, it's on the Bloomberg Terminal.
LEARN MORE