politics
Trump Urges Alabama to Vote Moore, Targets Accuser's Lawyer
By
State holds special election on Dec. 12 for Senate seat

Republicans have opposed Moore amid sex misconduct allegations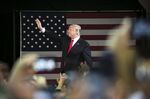 U.S. President Donald Trump gave his most full-throated endorsement yet of Alabama Senate candidate Roy Moore, casting aside calls to shun the former judge who's been accused of sexual misconduct while seizing on reports that questioned the credibility of his accuser. 
Trump, speaking to a crowd of supporters in Northern Florida about 30 miles from Alabama, highlighted reports Friday that Beverly Young Nelson acknowledged she had written some of the words in her high-school yearbook that she had attributed to Moore. Referring to the woman's attorney, Gloria Allred, Trump said "anytime you see her you know something's wrong."
After initially staying quiet about the allegations against Moore, Trump threw his support behind the candidate on Monday and again Friday via Twitter, saying that his vote in the Senate would be critical to advancing his agenda. The Republican National Committee, which had withheld support for Moore, followed the president's lead and is now backing him in the Dec. 12 special election.
"We need somebody in that seat who will vote for our Make America Great Again agenda," Trump told the crowd at the Pensacola Bay Center. "Get out and vote for Roy Moore."
In a tweet on Saturday morning, Trump said the arena was packed "to the rafters" and described the crowd as "loud, loving and really smart."
Trump and the RNC's response to Moore's allegations contrasts with the actions by Democrats, who rallied together this week to call on Democratic Senator Al Franken to resign amid accusations of sexual misconduct.
Alabama voters will decide on Tuesday between Moore, a former Alabama supreme court judge, and Democrat Doug Jones, who served as a U.S. attorney in the state. The allegations against Moore have divided the party: some Republican lawmakers have said he should drop out of the race, and others have suggested he be removed if elected. Despite the allegations, Moore has a slim lead in polls over Jones in the heavily Republican state.  
The White House said the rally was not intended as a Moore event -- noting Trump has traveled to Pensacola multiple times -- and previously said Trump had no plans to campaign on Moore's behalf following the allegations.
Moore has been accused of initiating a sexual encounter with a 14-year-old, sexually assaulting a 16-year-old, and romantically pursuing other teenage girls when he was in his 30s.
Earlier Friday, Moore took to Twitter to seize on the president's support: "Trump urges Alabamians to support Roy Moore: 'Pelosi/Schumer Puppet' Doug Jones would vote against agenda #ALSen," he tweeted, referring to the Democrat's House Minority Leader Nancy Pelosi and Senate Minority Chuck Schumer.
Trump also took aim at what he calls the "fake news media" over recent erroneous reports related to the investigation into Russian meddling in the 2016 election. He also said that Democrats were "holding hostage" military spending over immigration, and highlighted violent crime in Chicago, saying the city was comparably safe to Afghanistan.
(
Updates with Trump's Saturday tweet in fifth paragraph.
)
Before it's here, it's on the Bloomberg Terminal.
LEARN MORE