Tougher U.S. Tone Toward Saudi Arabia Exposes Rift on Key Ally
By and
Trump calls out Saudi leaders over blockade of Yemen

Growing sense of alarm at State Department over Saudi actions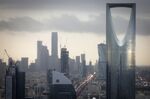 With a series of rebukes of Saudi Arabia this week, President Donald Trump's administration appears to be taking a more assertive stance toward a key Middle East ally after sending conflicting messages for months.
On Dec. 6, Trump issued a two-sentence statement calling on Saudi Arabia to immediately end its blockade of Yemen, an act that has threatened to cause widespread famine, as the kingdom fights Houthi rebels believed to have backing from Iran. On Friday, Secretary of State Rex Tillerson called on Saudi Arabia's leaders to "think through the consequences" of their actions and be "a little bit more thoughtful."
While the comments stopped short of tangible action -- the U.S. continues to back the Saudi-led coalition carrying out airstrikes in Yemen with intelligence and refueling -- the rhetoric reflected a sharper tone toward the kingdom. It also showed Trump aligning more closely with his top diplomat who, along with Defense Secretary Jim Mattis, has been more inclined to reprimand Saudi Arabia for a series of foreign policy steps that have drawn widespread criticism.
"There seems to be a little more of a unified voice from Washington," said Tamara Cofman Wittes, a senior fellow in the Center for Middle East Policy at the Brookings Institution. "Those are the same arguments that Mattis and Tillerson were making earlier, but earlier we saw statements out of the White House or tweets from the president that seemed to undermine their concerns and now those statements are absent."
Read a QuickTake Q&A on the killing of Yemen's former president

Trump's Yemen statement was followed by a lengthier version Friday which put more emphasis on the Houthi rebels' recent killing of former Yemeni President Ali Abdullah Saleh, as well as missile attacks against Saudi Arabia and the United Arab Emirates. But it still called on the Saudi-led coalition to allow for the "free flow" of goods from Yemen's ports and commercial flights from the capital, Sana'a.
Behind the remarks is a growing sense of alarm within the State Department about Saudi Crown Prince Mohammed bin Salman, who is seen by Tillerson and many U.S. diplomats as young and inexperienced. Tillerson has repeatedly tried without success to facilitate a resolution to a dispute between a Saudi-led bloc and Qatar, which hosts a key U.S. military headquarters.
Hariri's Resignation
And the U.S. seemed as surprised as anyone when Lebanese Prime Minister Saad Hariri flew to Riyadh last month and abruptly resigned before returning to his country weeks later and withdrawing his resignation. Hariri's coalition government includes Iranian-backed Hezbollah.
Tillerson's alarm about Saudi actions grew after he began to suspect that Prince Mohammed and Trump's son-in-law and adviser Jared Kushner -- another foreign policy neophyte -- were withholding details about a Middle East peace plan that the State Department believed could have disastrous consequences.
"We've seen these things over the past few weeks where there was a sense that the Saudis, inadvertently or because of a lack of experience, have wrong-footed us in ways that were detrimental to our interests and to regional stability," said Gerald Feierstein, a former deputy assistant secretary of state and now a resident expert at the Middle East Institute in Washington.
"Clearly there needs to be some kind of more open and transparent communication between Washington and Riyadh so that we're not caught by surprise," Feierstein said.
Glowing Orb
It is a far cry from May, when Trump made his first overseas trip as president to Saudi Arabia, touted billions of dollars in weapons sales to the kingdom and had his visage projected onto the side of the Ritz-Carlton where he was staying. One photo in particular spawned a slew of Internet memes: it showed Trump and King Salman Bin Abdulaziz resting their hands on a glowing orb as they inaugurated a center to combat extremist ideology.
In recent weeks, Tillerson got Trump's permission to deliver private messages to Prince Mohammed, warning him against further destabilizing actions in Qatar. This week he seemed more open to expressing his concerns publicly, though still in a diplomatic style.
"With respect to Saudi Arabia's engagement with Qatar, how they're handling the Yemen war that they're engaged in, the Lebanon situation, I think we would encourage them to be a bit more measured and a bit more thoughtful in those actions, to, I think, fully consider the consequences," Tillerson told reporters Friday in Paris.
Before it's here, it's on the Bloomberg Terminal.
LEARN MORE