U.K.'s Irish Fudge Will Come Back to Haunt May as Foster Hedges
By
U.K. border plan enough to move Brexit talks to second phase

Questions remain about how workable solution might be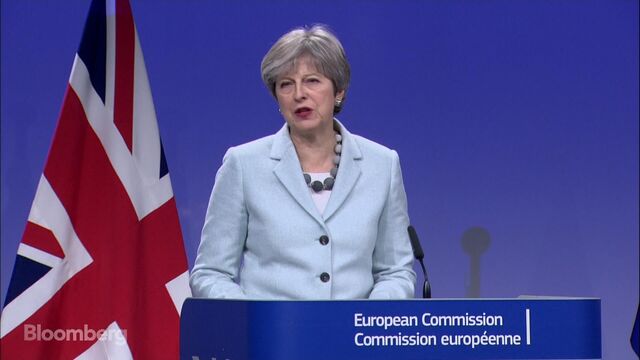 Follow @Brexit for all the latest news, and sign up to our daily Brexit Bulletin newsletter.
U.K. Prime Minister Theresa May managed to kick the Irish border question far enough down the road to allow Brexit talks to move on. But Arlene Foster, who keeps her in power, hasn't gone away.
In the deal agreed Friday, the U.K. guaranteed no hard border will re-emerge on the island of Ireland, with Northern Ireland playing by the same rules as those in the south of the border if all else fails. May also gave an assurance there'll be no barriers between Northern Ireland and the rest of the U.K.
QuickTake Q&A: The Puzzle of Ireland's Border

What's not clear is how that might work, if U.K. rules begin to move away from those in the EU. How does the U.K. stop chlorinated chicken reared in Wales, for example, moving across the Irish Sea and into the EU through the invisible border? Irish Foreign Minister Simon Coveney made clear that's not his problem -- it's up to the U.K. to "design" a solution, he told broadcaster RTE.
Democratic Unionist Party leader Foster quickly warned that the game isn't over. Without her 10 lawmakers in London, May does not have a working majority to pass legislation.
Caution
"We cautioned the prime minister about proceeding with this agreement in its
present form given the issues which still need to be resolved," Foster said in an email statement. "Nothing is agreed until everything is agreed and how we vote on the final deal will depend on its contents."
Foster said she welcomed the government's assurances this week that "any alignment will be done on a U.K. wide basis." This implies rules across the U.K. would match those in the EU. While that would solve the Irish question, it could spark a revolt among May's own lawmakers, many of whom want to move away from EU rules.
For now, though, May has managed to fudge the issue enough to get to the next phase of talks, and she'll hope a wide-ranging trade deal will largely neutralize the border question. If not, Foster is watching.
"Along with like-mind colleagues across the House of Commons, we will ensure that there is no backsliding on the promises made about the integrity of the Union," she said.
Before it's here, it's on the Bloomberg Terminal.
LEARN MORE