U.K. CEOs Bang Drum for Trade Deal as Brexit Talks Progress
By , , and
CEOs reiterate need for clarity as planning deadlines loom

Details still lacking, say chiefs of Berkeley, Aston Martin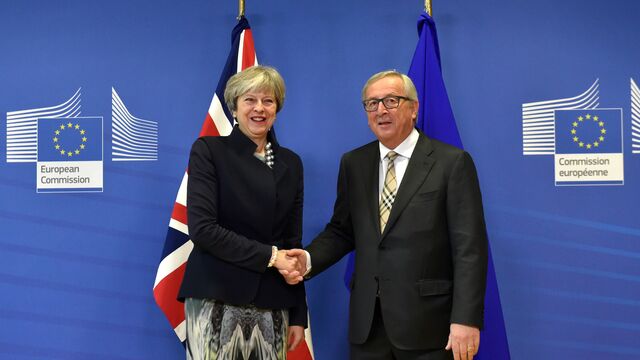 U.K. business chiefs called for a swift and comprehensive trade agreement with the European Union as Brexit negotiations moved on to shaping the country's future relationship with the bloc, with just 15 months remaining before Britain is due to leave.
A long-awaited breakthrough Friday on issues including a financial settlement clears the way for talks on a trade pact between the two sides, prompting relief in boardrooms. Still, potential customs hurdles, regulatory changes, and lingering doubts over the rights of more than 2 million EU workers need to be addressed before companies can hire and spend with confidence, executives say.
"Businesses need certainty in order to invest, so it's fantastic news" about the initial deal, "but it doesn't really give us more certainty yet," Rob Perrins, chief executive officer of property developer Berkeley Group Holdings Plc, said in a phone interview. "We will have to wait for details on the actual trade deal for that." The FTSE 100 company has blamed Brexit for weakness in the London housing market.
The agreement reached Friday was the easy part, said global accounting giant KPMG LLP. Sticking points such as the Irish border could easily recur in even more dramatic fashion as the U.K. and EU discuss policies that will affect supply chains, logistics and capital expenditure, said Karen Briggs, the firm's head of Brexit. A recent survey of chief financial officers found that Brexit continues to hold the biggest sway over companies' appetite for risk, said Deloitte LLP, another Big Four auditor.
Keeping Alternatives
Some financial companies aren't waiting around to see what happens. Royal Bank of Scotland Group Plc Chief Executive Officer Ross McEwan said the breakthrough doesn't alter the bank's plans to establish an alternative trading hub inside the EU. Banks still have to plan for the worst, he said in an interview with Bloomberg Television.
Luxury carmaker Aston Martin Lagonda Ltd. hopes for a trading settlement as close to the status quo as possible, because the company imports parts from across the world and exports the majority of its finished products, CEO Andy Palmer said in an interview. "Having clarity on direction by the end of March is mandatory," assuming a two-year transition, he said, to factor any changes into forward planning.
Friday's joint statement from U.K. and EU negotiators pledged the right of European workers to stay in the U.K. and vice versa -- a cause for relief, said the British Chambers of Commerce and the Institute of Directors. However, those rights must be enshrined even in the event that talks collapse, they said.
Frictionless trade
For the workers from abroad, "this cannot be their second Christmas where their rights are dependent on negotiations," the Confederation of British Industry said in an emailed statement.
Television producer Endemol Shine U.K., which creates shows including Big Brother and MasterChef, said maintaining frictionless trade will be key, since the company makes significant revenues from the sale of its programs and TV formats to Europe. "If no deal meant tariffs on exports, that would obviously be a big issue for us," said CEO Richard Johnston. "Provided we avoid tariffs, I'm slightly more relaxed."
Sectors including the pharmaceutical and defense industries also welcomed the step forwards with similar caveats. It's now "crucial that the regulation and supply of medicines for U.K. and EU patients is prioritized," said the Association of the British Pharmaceutical Industry, which says 500 million patients rely on minimizing disruption. Agreement on a transition must be reached as soon as possible, said the aerospace and defense group ADS.
Food Tariffs
In contrast to other companies' push for a cooperative approach, Tim Martin, chairman of pub operator JD Wetherspoon Plc and one of the leading business voices advocating for Brexit in the run-up to the referendum in June 2016, said the initial accord reached overnight showed the U.K. would be better off without a deal. Members of parliament would have the right to eliminate food tariffs from non-EU imports, which would give British pub-goers more spending power, Martin said in an interview.
"My main worry is that the CBI and British Retail Consortium have successfully persuaded and misled the MPs and the public by saying food prices will rise unless there is a deal, and that is completely untrue," said Martin, who will be campaigning to eliminate food tariffs and not pay any money to the EU during the transition period. Wetherspoon imports about 30 percent of its food from outside the EU.
Growers of British food are keen for the current "fogginess" to clear. 
"This is only the beginning of the beginning," said Nick Wallis, a farmer and managing director of Ridgeway Grain, which stores and processes grain near Newbury. Farmers expect subsidies to decline and are restructuring to cope. So far, the U.K. government has only guaranteed to bridge the gap in EU agriculture subsidies until 2022.
"If they hadn't struck a deal the process would have taken another month or two, so I am pretty sanguine about the whole thing," he added.
— With assistance by Eric Pfanner, Benjamin D Katz, Neil Callanan, James Paton, Flavia Krause-Jackson, Gavin Finch, Manus Cranny, Thomas Buckley, and Manisha Jha
Before it's here, it's on the Bloomberg Terminal.
LEARN MORE