Trump Travel Ban Litigation Roadshow Returns to Virginia Court
By and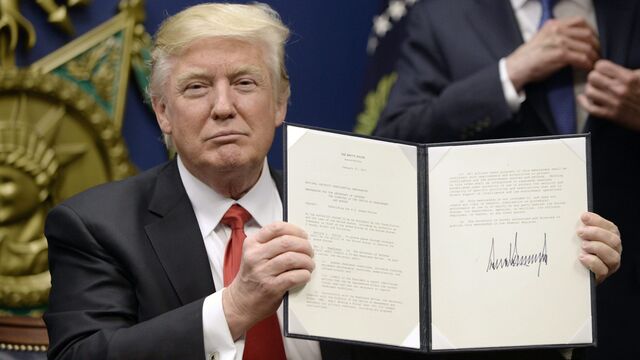 The legal battle over President Donald Trump's travel ban resumes Friday in Richmond, Virginia, after a pit stop in Seattle, on an inevitable path back to the U.S. Supreme Court in Washington.
Administration attorneys are set to ask a panel of judges at a regional appeals court to uphold the Sept. 24 proclamation that restricted travel to the U.S. from six nations -- Chad, Iran, Libya, Somalia, Venezuela and Yemen -- and blocked entry entirely from Syria and North Korea.
As the bi-coastal appeals courts did with earlier versions of the travel ban, they're again weighing the president's prerogative to control policy on national security against allegations that the executive order exceeds his authority under federal immigration law and violates the U.S. Constitution by targeting people from Muslim countries.
This time is different because the Supreme Court ruled on Monday that the latest restrictions will remain in full effect while the appeals process plays out. While the justices didn't explain their decision, it suggests they will ultimately allow the travel restrictions to remain in place indefinitely.
A three-judge panel of the Ninth Circuit Court of Appeals didn't tip its hand Wednesday while listening to an hour of arguments over the ban. The state of Hawaii argued that the government hasn't demonstrated a threat to the U.S. by allowing entry to people from the eight targeted nations, while lawyers for the president contended that the Immigration and Nationality Act gives him authority to decide which countries pose a security risk.
Before it's here, it's on the Bloomberg Terminal.
LEARN MORE