Trump Warns He Might Increase the Penalties on Wells Fargo
By
Tweets that penalties could be "substantially increased"

Regulators are scrutinizing scandals in its consumer unit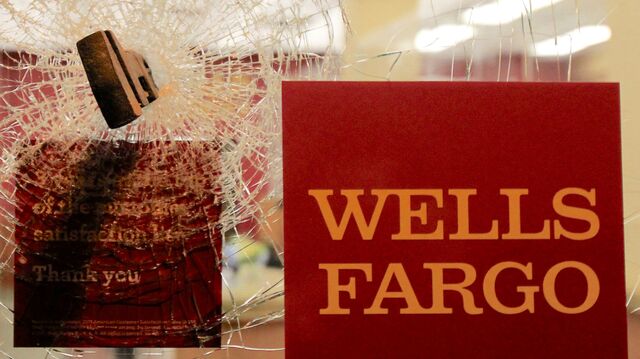 President Donald Trump tweeted Friday that the government may increase planned fines against Wells Fargo & Co., the bank that's been embroiled in multiple scandals since last year.
"Fines and penalties against Wells Fargo bank for their bad acts against their customers and others will not be dropped," the president said on Twitter.
Mick Mulvaney, picked by Trump to be acting director of the Consumer Financial Protection Bureau, last month imposed 30-day freezes on regulatory actions and hiring while he conducts a review of the bureau's operations. Reuters reported Thursday that the CFPB was reviewing whether it should move forward with a possible settlement proposal in which Wells Fargo would pay tens of millions of dollars over wrongly charged mortgage fees.
Trump said in his tweet that the government will pursue penalties against the bank. "If anything," he said, those would be "substantially increased."
Government regulators, including the CFPB and the Office of the Comptroller of the Currency, have been scrutinizing issues in the bank's consumer business dating back to at least 2016. Wells Fargo paid $185 million in fines and refunds to customers to smooth over government findings that its employees opened millions of accounts without customers' permission. The bank is also being investigated for charging customers fees to lock in certain rates on mortgage loans and for billing customers for auto insurance they didn't want or need.
Discussions between Wells Fargo and officials of the consumer agency haven't yet advanced into negotiations over what the bank should pay to resolve the mortgage lending issue, according to a person with knowledge of the matter. 
Erika Reynoso, Wells Fargo spokeswoman, declined to comment.
The bank said last month in a regulatory filing it has begun refunding some of the $98 million that it determined was wrongfully billed to customers. The charges, known as mortgage rate-lock extension fees, were assessed to 110,000 Wells Fargo customers for approximately three-and-a-half years starting in September 2013.
"Wells Fargo will remain a political punching bag given the bank's initial mishandling of the fake account controversy," Cowen analysts led by Jaret Seiberg wrote in a note. "We suspect it will remain a target until the bank makes additional changes at the very top."
Trump's tweet didn't appear to faze Wells Fargo investors. The shares gained less than 1 percent to $59.44 at 12:40 p.m. in New York.
— With assistance by Felice Maranz
Before it's here, it's on the Bloomberg Terminal.
LEARN MORE