politics
Trump's 'Pig's Blood' Allusion Resurfaces at Travel-Ban Hearing
By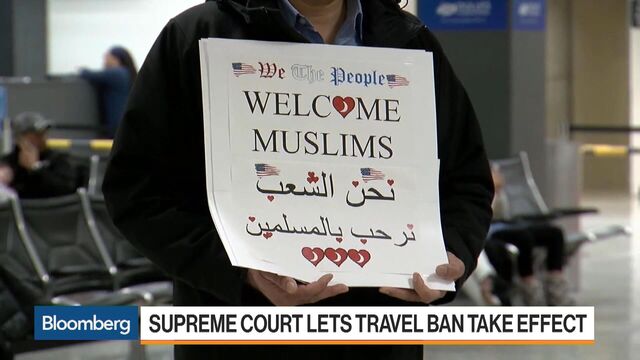 Donald Trump's fondness for a story about Muslims being executed in the Philippines with bullets dipped in pig's blood showed up again in court as opponents try to overturn his travel ban.
The president alluded to the apocryphal tale in an August tweet after a terrorist attack in Barcelona. A month later, he issued a presidential proclamation curbing travel to the U.S. from six majority Muslim nations -- Chad, Iran, Libya, Somalia, Syria and Yemen -- as well as Venezuela and North Korea.
It came up Friday as Justice Department lawyer Hashim Mooppan said Trump's various comments about Muslims were "not about the proclamation at all" and aren't "legally relevant." U.S. Appeals Court Judge Stephanie Thacker pointed out that the August tweet came long after earlier versions of the travel ban had been blocked by judges, who said his comments showed bias against Muslims.
American Civil Liberties Union lawyer Cecillia Wang told Judge Paul Niemeyer that without Trump's comments, "it would be a different case." Opponents say the ban is about Muslim animus and fulfilling a campaign pledge -- not national security.
The U.S. Supreme Court on Dec. 4 put lower court orders in Maryland and Hawaii on hold until the appeals process plays out. Members of a 13-judge federal appeals court panel listened to two hours of arguments Friday in Richmond, Virginia, but deferred a ruling. Earlier Friday, the U.S. State Department began implementing the travel ban.
Trump Is 'Worst Client' in Travel-Ban Suit With Video Tweet
Before it's here, it's on the Bloomberg Terminal.
LEARN MORE