South Africa Court Bypasses Zuma as It Demands Prosecutor Exit
By
Deputy President must appoint new NPA boss within 60 days

Abrahams was the fourth prosecuting head appointed under Zuma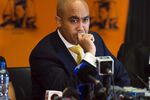 The South African High Court ordered that National Prosecuting Authority head Shaun Abrahams must vacate his post after ruling that the agreement for Mxolisi Nxasana to step aside in 2015 was unlawful.
Deputy President Cyril Ramaphosa must appoint a new chief prosecutor within 60 days, Judge Dunstan Mlambo ruled on Friday in the capital, Pretoria, saying President Jacob Zuma shouldn't make the appointment himself because of a conflict of interest -- the NPA is due to decide whether the president must be charged for corruption. Zuma will appeal the court's decision, his spokesman Bongani Ngqulunga said in an emailed statement.
Nxasana had said at the time that he was forced out of his position by Zuma allies who feared he would reinstate the fraud and corruption charges against the president. Zuma started an inquiry into Nxasana's fitness to hold office in February 2015 and Nxasana stepped down four months later, accepting 17.3 million rand ($1.3 million) in compensation.
The court decision is a blow to Zuma who has argued to the NPA that charges against him should be scrapped. Abrahams had challenged opposition applications for Zuma to face trial, until the Supreme Court of Appeals ruled in October that the case can go ahead.
The prosecuting authority spent eight years investigating allegations that Zuma, 75, took 4.07 million rand in bribes from arms dealers and charged him with corruption, racketeering, fraud and money laundering. It abandoned the case in 2009, months before he became president, saying taped phone calls indicated that chief investigator, Leonard McCarthy, used the case against Zuma to try and frustrate his efforts to win control of the ruling African National Congress from then-President Thabo Mbeki.
Opposition parties and civil-rights groups questioned Abrahams's fitness to hold office after he filed graft charges against then-finance minister Pravin Gordhan in 2016, only to drop them a few weeks later. That case sparked a sell-off in the nation's rand and bonds. Abrahams was the fourth chief prosecutor appointed during Zuma's tenure.
The presidency doesn't take judicial appointments lightly and will appeal Friday's ruling "minded by the principle of the separation of powers, constitutional legality and the rule of law," Ngqulunga said.
"Whilst the President awaits a full briefing on the judgement, he has been advised that an early assessment displays, with respect, various grounds upon which a successful appeal may be prosecuted," he said.
NPA spokesman Luvuyo Mfaku didn't immediately answer phone calls and text messages seeking comment.
Abrahams had allowed Zuma to submit new arguments as to why the charges should be dropped and was in the process of deciding whether to proceed with the case.
Before it's here, it's on the Bloomberg Terminal.
LEARN MORE