RBI Rule Tweak Widens Refinancing Avenues for Indian Companies
By
Indian banks' foreign units allowed to refinance company debt

Loan maturities will average about $26 billion until 2022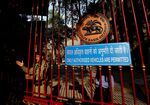 Indian borrowers staring at rising loan maturities in the coming years can take comfort from a rule tweak the central bank made on refinancing debt.
The Reserve Bank of India on Wednesday allowed overseas branches and units of Indian banks to refinance external commercial borrowings of AAA-rated firms and large state owned companies via new borrowings. The measure "increases the pool of liquidity available to existing borrowers," according to Manmohan Singh, Mumbai-based head of banking at the Indian unit of Bank of Nova Scotia.

The move eases the strain among Indian companies faced with a wall of maturities that will average about $26 billion for the next five years. Overseas debt due from local companies will climb to $27.6 billion in 2018. This compares with $24.7 billion that has matured or is due this year, out of which $9.1 billion was refinanced via foreign-currency syndicated loans, according to data compiled by Bloomberg.
"This move should be seen as a mere rationalization of an existing aberration in the regulations," said Bank of America Corp.'s India country treasurer Jayesh Mehta. "It is a positive measure, which will help more lenders to participate in Indian refinancing deals."
Offshore syndicated loan volumes from India fell 39 percent to $14.4 billion in 2017, compared with the same period a year earlier, Bloomberg-compiled data shows. Reliance Industries Ltd., owned by billionaire Mukesh Ambani, is the largest local borrower, raising $3.7 billion this year.
Quotes from this Article
Before it's here, it's on the Bloomberg Terminal.
LEARN MORE