Pound's Acid Test on Brexit Is Yet to Come for Options Traders
By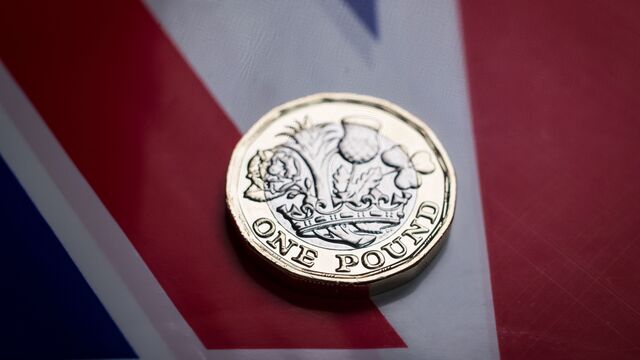 As the U.K. and the European Union announced they had secured a divorce deal, the pound rose -- and its gains all but evaporated in a fleeting few seconds.
What gives?
On display was the classic market adage of "Buy the rumor, sell the fact." But also obvious was a recognition among traders that the negotiations have reached a crucial second phase: if just the first phase of unlocking the divorce bill was this challenging, the path ahead could be even more frustrating and time-consuming.
Investor skepticism about further progress in talks is on candid display across the spectrum of derivatives. From one-month to one-year risk reversals, put options on the pound are more expensive that calls; what's more, the premiums get stiffer the further out one goes on the curve.
For instance, while one-month put options on the pound trade at a premium of 24 basis points over calls, the six-month tenor shows a premium of 84 basis points. Incidentally, the latter contracts capture the first EU summit for 2018 that is scheduled for March 22-23.
Meanwhile, options that capture the risk of outsized moves in the pound seem to be subdued. The currency's six-month butterfly options traded at 110 basis points on Friday, matching this year's average. Nomura International Plc echoes traders' sentiment, with analysts Andy Chaytor and Jordan Rochester writing that the market's sensitivity to Brexit talks should fall substantially in the new year.

What seem to be aligned in favor of the pound, at least over the short term, are its chart signals. For one thing, the currency is still above its 21-day moving average, currently at $1.3323. The gauge has provided support for sterling since mid-November. As long as it holds, given the outside reversal candle on Thursday, the bullish trend that started on Nov. 13 remains in place.
However, over the longer term, the pound faces challenges, with momentum studies offering mixed signals. The relative strength index shows sterling is in for further losses; in contrast, the moving average convergence/divergence indicator, also known as MACD, has yet to turn bearish. Bloomberg's fear-greed indicator shows bulls still control spot price action, while DeMark TD Sequential is in the first stages of a bearish trend.
NOTE: Vassilis Karamanis is an FX and rates strategist who writes for Bloomberg. The observations he makes are his own and are not intended as investment advice
Quotes from this Article
Before it's here, it's on the Bloomberg Terminal.
LEARN MORE