Morgan Stanley Says China Partner Is Open to Cede Control
Cathy Chan and Tom Mackenzie
Christianson says firm is well-positioned and will add staff

China plans to allow foreign control of securities ventures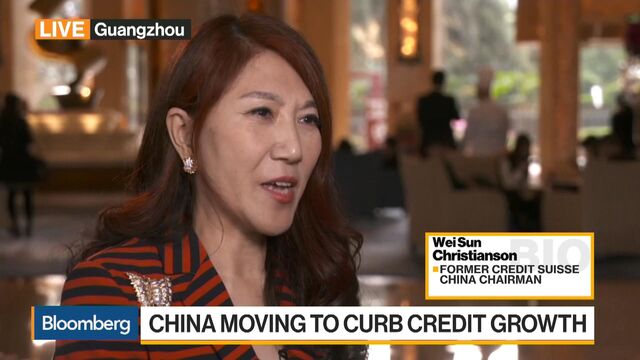 Morgan Stanley's partner in its Chinese securities venture is willing to give up control as the government prepares to remove a foreign ownership cap, according to the U.S. bank's Asia-Pacific co-Chief Executive Officer Wei Christianson.
The New York-based bank, which has already raised its stake in Morgan Stanley Huaxin Securities Co. to 49 percent from one third, aims to own a majority once China gives details on how the rule change will be implemented, Christianson said Friday in a Bloomberg Television interview from Guangzhou.
"They're actually very supportive, and they would like to have Morgan Stanley, with the industry expertise and the best market practice, to control the joint venture," she said. "We're now already willing and able and waiting for the implementation details."
Amanda Liu, a Shanghai-based spokeswoman for Morgan Stanley Huaxin Securities, declined to comment.
China last month unveiled plans to remove a key hurdle for foreign banks, allowing them to take control of local securities ventures by increasing the ownership limit to 51 percent. The cap will be abolished three years after the rules are in place. Goldman Sachs Group Inc. and UBS Group AG are among banks that have been working to boost their stakes in the ventures.
Christianson said current regulations already enable the bank to expand into "all kinds of business," though certain track records are required. "I think we're also in a position to do that when we decide it's the right time to do so."
The newly announced initiative will give "comfort" to international firms that will "seriously consider launching business on a full-blown basis," Christianson said, adding that Morgan Stanley is "well-positioned" and welcomes competition. She said the bank will increase headcount in China, without giving details.
Christianson said the pipeline for initial public offerings next year looks "quite healthy," largely driven by sectors including technology, medical care and consumer. She expects some "elephant-sized transactions" of more than $1 billion.
Before it's here, it's on the Bloomberg Terminal.
LEARN MORE