Inside May's Race to a Late-Night Brexit Deal
By , , , and
May delivers divorce deal after confronting DUP's Foster

After pre-dawn flight to Brussels, trade talks can begin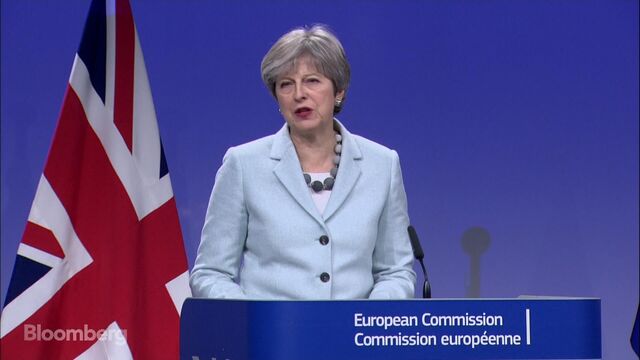 It was 11 p.m. Thursday night and the staff Christmas party at 10 Downing St. was in full swing, with karaoke blasting and wine washing down the samosas and sausage rolls.
Downstairs, Prime Minister Theresa May shut herself in her private office with her closest aides. It was time to talk to Arlene Foster again.

The leader of Northern Ireland's Democratic Unionist Party had been blocking an agreement on what emerged as the thorniest Brexit question of all: what kind of border would divide the British north from Ireland, the European Union nation on the southern part of the island of Ireland. The answer could make or break the Brexit deal.
The prime minister's team of diplomats and negotiators had been working intensively for weeks to reach language that would win over the DUP, which props up May's minority Conservative government. They had written and re-written the draft agreement but Foster still wasn't happy.
In that late night phone call, May was blunt, according to Foster's own account. The premier said she couldn't wait any longer. It was time to decide. Foster declined to deploy her veto.
"We ran out of time," Foster said on Friday morning. "We think that we needed to go back again and talk about those matters but the prime minister has decided to go to Brussels."
Seven hours later, May was in the Belgian capital, shaking hands with European Commission president Jean-Claude Juncker and hailing -- perhaps -- the end of the beginning of Brexit. She'd survived to fight another day, with the parties agreeing enough progress had been made to begin trade talks.
Monday's Mess
Four days earlier, May's Brexit plans and her standing were in tatters. Her chances of opening talks with the EU on the future trade relationship seemed further away than ever.
This article is mainly based on interviews with senior figures from EU and U.K. Brexit teams and governments, who declined to be identified discussing sensitive and confidential information. It charts the story of a tumultuous week in European politics.
After triggering Brexit talks last March, May had a two-year deadline to wrap up a divorce settlement and negotiate the terms of a new free trade agreement before the U.K. leaves the EU.
Approaching Deadline
Both sides agreed that the terms of the split needed to be fixed by the end of December to allow time to negotiate the trade terms and transitional arrangements that businesses desperately need.
In late November, the EU set May a deadline of Monday December 4 -- when she was due to meet Juncker for lunch - to make a better offer on the three biggest separation issues: the money Britain will pay in its so-called exit bill; the rights of EU citizens living in the U.K., and avoiding a new "hard border" between the U.K. region of Northern Ireland and the Republic of Ireland.
By the time May sat down opposite Juncker at 1:15 p.m. on Monday to eat her starter course of roasted scallops with butternut cream, she had made headway on all three issues.
The prime minister had convinced her own Cabinet to let her increase her offer on the money to what British officials now estimate at between 35 billion pounds ($47 billion) and 40 billion pounds. And she suggested protecting citizens' rights by giving a post-Brexit role to the European Court of Justice, an unacceptable foreign influence in the eyes of Euroskeptic Conservatives. 
Even on the issue of the Irish border, May's officials had reached a position that they thought would be acceptable to both the Irish government and the DUP. Her plan was to align the regulatory rules of trade in Northern Ireland with those of the EU, which operate in the Republic of Ireland. This would make border checks unnecessary.
As the details leaked, Foster pulled back and the deal fell apart.
Foster and her team were furious that the U.K. and Ireland were apparently stitching together a deal that would give Northern Ireland radically different economic rules to those that operate on the British mainland. That would violated the DUP's raison d'etre -- protecting and preserving the bonds between Northern Ireland and the rest of the U.K.
Juncker and May described the breakdown as a temporary setback. Negotiations would resume within days, May said.
Yet when she tried to talk to Foster, May found her Northern Irish ally wasn't available. A phone call that was due to take place on Tuesday never happened. In Brussels, officials started to panic. Monday had been a crisis but Tuesday was even worse, with no obvious way forward.
Soft Brexit?
As a possible compromise, May's Brexit Secretary David Davis suggested that the whole U.K. - not just Northern Ireland - would align its regulatory regime in key sectors such as agriculture and energy closely with Ireland and the rest of the EU.
While this helped ease the fears of the DUP, it infuriated the Brexit campaigners inside May's Tory party, namely Foreign Secretary Boris Johnson and Environment Secretary Michael Gove. They wanted as much daylight with the EU as possible.
Behind the scenes, May's top Brexit adviser Oliver Robbins worked frantically in Brussels with his counterparts in the European Commission to revise the text so that it would be acceptable to the DUP and the Irish government.
In London, May's Northern Ireland Secretary James Brokenshire and her senior Brexit negotiator, Simon Case, who previously ran her Downing Street office, played key roles trying to broker a truce. They were joined by Conservative chief whip Julian Smith and May's chief of staff Gavin Barwell.
The Longest Night
This was the tight-knit group that sat down Thursday night in the prime minister's private study, as the strains of carols could be heard from the party upstairs.
The aides who were with the premier all night had little time to join in the festivities. One complained he managed just a bottle and a half of beer, while another noted ruefully how dinner consisted of 10 sausage rolls that a sympathetic friend brought downstairs.
Fifteen miles away at a Royal Air Force base on the edge of London, a military plane was on standby, ready to take May to Belgium.
May's team was surprised by an announcement that EU President Donald Tusk would be making a dawn statement in Brussels on Friday. Tusk's plan was to pressure the British to for a deal that European leaders then could sign up to at a summit next week -- before it's too late.
May then spoke to Juncker at 7:30 p.m. Despite previously difficult relations, Juncker won over British officials this week, earning their private thanks for his willingness to help broker a Brexit accord. He had called May a "tough negotiator" on Monday, providing her with valuable political cover, and cleared his calendar to facilitate a deal.
Then came the calls that really counted.
The prime minister herself spoke to Foster at 9 p.m. on Thursday and again at 11:10 p.m. It was this second conversation that was pivotal.
Foster was pleased but not satisfied. The British government had made six significant changes to Monday's draft but it was not enough. She asked May for more time.
May refused. She said she must go to Brussels to do the deal. Her whole agenda would be in danger. Shortly before midnight, they took the decision to dash to Brussels. Their plane took off at 4:30 a.m.
When May's motorcade pulled up at the vast concrete, steel and glass palace that houses the European Commission in the Belgian capital, the relief that May felt was obvious to those who were with her. She'd had just two hours' sleep but at last, her efforts were paying off.
The negotiating team had made enough progress on the terms of the divorce to satisfy the EU, the Irish and -- just about -- the DUP. Now, talks on a future trade deal and transitional plans can begin.
"We have been working extremely hard this week," a tired but happy prime minister told reporters, as she stood beside Juncker on the same stage they'd shared on Monday. "It hasn't been easy for either side."
— With assistance by Kitty Donaldson, and Ian Wishart
Before it's here, it's on the Bloomberg Terminal.
LEARN MORE