The Incendiary States of America
A detailed map of U.S. wildfires since 1980 reveals the growing role of human causes.
By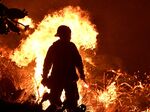 California is burning, which is nothing new. But the wildfires now raging in and around Los Angeles—for which President Trump declared a state of emergency on Friday—are coming extraordinarily late in the season; by now, California's rainy season should have eased the risk of uncontrollable conflagrations. Grist's Eric Holthaus calls the Thomas fire, the largest of the blazes now devouring L.A. hillsides, "the first wintertime megafire in California history"—and lays the blame squarely on climate change.  
The advent of uncontrollable wintertime megafires in California is a turning point in America's struggle to contain the impacts of a rapidly changing climate. Conditions that led to the Thomas fire won't happen every year, but the fact that they're happening at all should shock us.
But in many other ways, this conflagration is business-as-usual for a part of the world that has long been shaped by a cycle of regular burns. As The New Yorker's John McPhee wrote in 1988, the chaparral that fuels these blazes thrives with wildfire: "In a sense, chaparral consumes fire no less than fire consumes chaparral. Fire nourishes and rejuvenates the plants." He also wrote that "[i]gnitions are for the most part caused by people—through accident or arson."
The question of exactly what role humans play in setting wildfires is one that inspired Jill Hubley—a Brooklyn-based web developer—to rank the last 36 years of U.S. wildfires by cause, number of fires, and acres burned. Using Federal Wildland Fire Occurrence Data from 1980 to 2016, Hubley tracked all of these categories by state, to map the major drivers behind fire in the country as a whole.
"I've read that many fires are caused by humans," she said. "So I started looking for data to find information to support that. You sort of think that a lot of these human-caused fires are just an accident … but some of them are definitely intentionally set. I was surprised to see that."

In the map above, green dots represent wildfires sparked by natural causes like lightning, while orange ones have human causes—whether cooking fires, fireworks, or cigarettes discarded in drought-ridden landscapes. While lightning remains the primary American firestarter in the lightly populated West, humans dominate the firescape of the Southeast, Midwest, and on both coasts. And it's not always an accident: Pyromania ranks within the top-five causes for wildfire in the U.S., both for acres burned and total number of fires.   

"A lot of the accidental causes are things you wouldn't think about," said Hubley. Vehicles, for example, can trigger fires via red-hot exhaust pipes or brake shoes. Hubley's visualization can also be accessed strictly by rank, to see how causes have changed over time. The legend at the bottom lists causes by relative rank, and you can hover over the items to light up the columns and see trend lines in the fire-type of your choosing. The length of each column represents the number of incidents in a given year, and at the top, you can view the ranking by location, as well as by the number of fires or acres burned.   
Smoking, for example, has long been a consistent cause of fire. However, as smoking has declined in popularity, so too have the number of fires ignited by cigarettes.
By contrast, power-line fires, which have been linked to the devastating Northern California fires in October, seem to be rising in rank—both by number of fires and acres burned—a sign perhaps of encroaching development in fire-prone wooded areas.
"There are some [causes] that you can see creeping up over time, and power lines are one of those," she said. "I think a lot of the fires are starting because there are more people in urban areas."  

You can check out more of Hubley's mapping projects here, including her maps of New York City's trees, non-English languages, and accidental oil spills.