politics
'Track Changes' Shows Manafort Can't Be Trusted, Mueller Argues
By
Prosecutors introduce his recent edits to an op-ed draft

Gates email says Manafort worked, 'in many cases,' for U.S.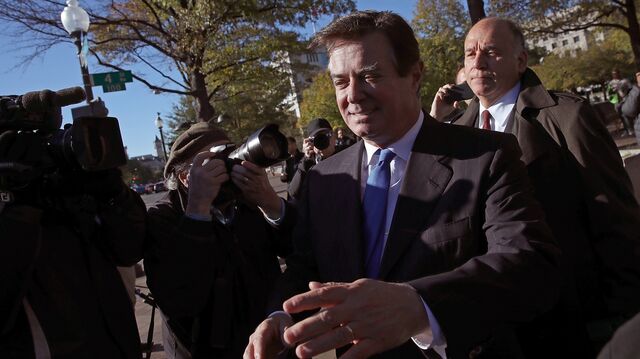 Paul Manafort, the onetime campaign chairman of President Donald Trump, suggested dozens of editing changes to an opinion piece that ran this week in an English-language Ukrainian newspaper, prosecutors for Special Counsel Robert Mueller said in a filing Friday.
The filing also offered a tantalizing nugget suggesting that some of Manafort's consulting work was done on behalf of the U.S. government.
Prosecutors presented recent emails and a Microsoft Word document they said showed comments Manafort added to the editorial draft on Nov. 29 using a "track changes" feature. His edits to the piece, prosecutors said, supported their claims that Manafort can't be trusted with relaxed bail terms in his conspiracy and money-laundering case. The editorial, they said, violated a judge's order to avoid commenting publicly on his case. 
Manafort's lawyers, in a filing on Thursday, minimized his role in drafting the article and also said their client had the right to set the record straight about his work in Ukraine. Manafort's lawyers said that Oleg Voloshyn, a former spokesman for Ukraine's Ministry of Foreign Affairs under ex-President Viktor Yanukovych, wrote the op-ed piece. The piece -- "Paul Manafort, European Integration's Unknown Soldier for Ukraine" -- was published Thursday in the Kyiv Post under Voloshyn's byline. 
"The final piece has substantial Manafort language," Mueller's prosecutors wrote in the filing. "A comparison of the tracked change op-ed sent by Manafort to his Russian colleague with the final version that was published on December 7 in the Kyiv Post show minimal changes in the Manafort-revised draft."

Mueller's filing in federal court in Washington included Manafort emails obtained by the Federal Bureau of Investigation, including one he sent to Konstantin Kilimnik, a Russian national who worked for Manafort in Ukraine. 
The email sent to Kilimnik includes the Nov. 29 document made by a Microsoft Word user registered as "paul manafort," according to an affidavit by FBI agent Brock Domin. The user "made a number of insertions and deletions, including notations appearing in capital letters."
The dispute reveals how close Manafort remains to former colleagues in Ukraine, where he worked for a decade reaping millions of dollars in payments that are now at the heart of an indictment that accuses him of laundering more than $18 million. He and Rick Gates, an associate charged with him in late October, have pleaded not guilty.
Talking Points
Friday's filing includes an email between Manafort and Gates that appears to discuss how to respond to criticism of Manafort's work in Ukraine and elsewhere.
Manafort, 68, was a top Republican strategist who also worked extensively for foreign politicians. He worked on Trump's campaign for only a few months in 2016. 
That August, the New York Times reported that handwritten ledgers showed $12.7 million in undisclosed cash payments designated for Manafort from Yanukovych's pro-Russian Party of Regions from 2007 to 2012. Manafort, who vigorously denied that assertion, left shortly afterward.
In September, Gates sent Manafort an email that included several documents that he said will "get you well on your way to getting organized," according to the filing Friday. The Gates email also included an "Outline of Issues" that appear to be talking points for Manafort.
Under ledger points, it said: "Never took cash payments. Where is the ledger? To this day no one has been able to produce the actual ledger."
It also discussed Manafort's work in other countries.
"Need to beat back the idea that this was nefarious work," the email said. "You were doing work, in many cases, on behalf of the U.S. government. Your efforts were in support and promotion of pro-democratic values around the world."
Op-Ed Authorship
The arcane issue of the op-ed's authorship arose after Manafort's lawyers told the judge that they had reached a new bail agreement with prosecutors in which he would forfeit four properties worth $11.7 million if he fails to appear in court. Under a deal made public Nov. 30, Manafort would be released from electronic monitoring and home confinement in Alexandria, Virginia.
Prosecutors disclosed the op-ed draft's existence earlier this week. They said Manafort, who is accused of working as an unregistered agent of Ukraine, secretly wrote it to put a positive spin on his political consulting work there.
In their filing on Friday, Mueller's prosecutors said Manafort's conduct "undermines trust in his adherence to bail conditions." They faulted Manafort for "unilaterally" pushing for publication before submitting evidence addressing the government's concerns.
Manafort's lawyers argued that an English-language article in a Ukrainian publication "cannot as a matter of law have a prejudicial effect in Washington." Prosecutors on Friday called that interpretation "fanciful" given the pervasive effect of social media.
Whether or not Manafort's conduct violated the judge's order on discussing the case, "it raises serious concerns about his trustworthiness that warrant denial of the motion to release Manafort from home confinement," Mueller's prosecutors wrote.
U.S. District Judge Amy Berman Jackson is expected to address the proposed bail package at a hearing on Dec. 11.
The case is U.S. v. Manafort, 17-cr-201, U.S. District Court, District of Columbia (Washington).
— With assistance by Andrew M Harris
Before it's here, it's on the Bloomberg Terminal.
LEARN MORE