Macy's CEO Gennette to Replace Retiring Lundgren as Chairman
By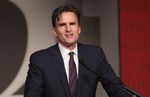 Macy's Inc. Chief Executive Officer Jeff Gennette will take on a second role as chairman of the beleaguered department store, replacing Terry Lundgren, who is retiring.
Gennette, who has been with the department-store chain for three decades, was appointed by the board and will assume the chairmanship on Jan. 31, Macy's said Friday. He became CEO earlier this year, stepping into a job that had also been held by Lundgren.
Macy's is looking to use the crucial holiday shopping season as a springboard to reverse 11 straight quarters of same-store sales contraction. A decline in foot traffic at malls and the rise of e-commerce has shaken investor confidence in department stores and led Gennette to slash costs, close stores and reduce inventory. Macy's is also seeking monetize some of its real estate holdings.
"I am confident that the company has the strategies, resources, talent and leadership to capitalize on the fundamental shifts in consumer shopping patterns we have all experienced," Lundgren said in a statement. "I continue to be impressed with Jeff's leadership, his decisiveness and his engagement with all levels of our outstanding organization."
Macy's shares rose 2.1 percent on Friday to $25.80. The stock has gained for five straight weeks, paring its year-to-date decline to 28 percent. The company has predicted strong holiday sales.
Quotes from this Article
Before it's here, it's on the Bloomberg Terminal.
LEARN MORE