Japan's Only Openly Gay Lawmaker Says Same-Sex Marriage Will Take Years
By and
Nation far from changing marriage laws like in Europe, America

Opposition CDP seeks to pass law banning LGBT discrimination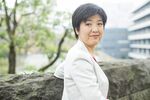 Facing opposition from conservative elements in Prime Minister Shinzo Abe's ruling party, Japan's only openly gay lawmaker said it could take a decade for the country to legalize same-sex partnerships.
Speaking on the day Australia became the latest nation to legalize gay marriage, Kanako Otsuji, 42, said Japan will have to go through a two-stage process.
"First of all we want to pass a law banning discrimination," Otsuji, a new lower house member with the main opposition Constitutional Democratic Party of Japan, said Thursday at her offices in Tokyo. "It will then become clear that the lack of a law permitting same-sex marriage or partnership is discriminatory."
Japan is promoting itself as open to diversity as part of its bid to attract highly skilled foreign workers to make up for a shrinking labor force. But it's far from changing marriage laws in line with the transformation seen across Europe and North America in the past few years, and risks falling short of a much lower hurdle.
Read about Australia legalizing same-sex marriage
Otsuji's left-leaning party has vowed to submit a bill outlawing discrimination against the LGBT community as a first step toward recognizing same-sex partnerships. But Abe's long-dominant Liberal Democratic Party favors a weaker document that would refer only to tolerance and "deepening understanding."
Societal Change


A former local assemblywoman and martial-arts enthusiast raised in Osaka, Otsuji won her seat in the male-dominated lower house in October's general election after serving in the less powerful upper chamber of parliament.
Only weeks later, she was stunned when Wataru Takeshita, chairman of the Liberal Democratic Party's general council, was reported as saying that same-sex partners of foreign dignitaries shouldn't be invited to banquets at the Imperial Palace because they don't fit with Japanese culture.
"To still be saying that kind of thing in public at this stage is inappropriate and discriminatory," Otsuji said. "If you invite the representative of a foreign country and there is a banquet at the palace -- I wonder about his idea of hospitality."
Takeshita later apologized. Abe and Foreign Minister Taro Kono said his views didn't reflect the government's policy of issuing invitations to the partners of foreign VIPs, whatever their status or gender.
The 71-year-old's comments reflect the deep generational divide over the issue. A 2015 poll found 51 percent of respondents were in favor of same-sex marriage. More than than 70 percent of those in their twenties approved, compared with only 24 percent among people in their seventies. Fewer men than women were in favor of the change.
Compromise Needed
With only 54 of the 465 seats in parliament, the CDP has no chance of passing a bill on its own or even with other opposition parties, and will have to seek a cross-party compromise that includes the LDP.
"We will aim to pass a law promoting correct understanding of sexual orientation and gender identity, and each ministry and agency should work together to press forward with policies to try to create a society that is open to diversity," the LDP said in its policy platform ahead of the October election.
Otsuji said the ruling party's ideas don't go far enough. The lack of legislation means same-sex partners lose out on inheritance, foreign partners struggle to obtain visas and couples can have trouble taking out loans or renting apartments, Otsuji said. Lack of acceptance means sexual minorities often live a double life, putting them at risk of mental health issues, she added.
"We have a law banning discrimination against the disabled and the word is used in the law banning hate speech," she said. "This is also an issue relating to human rights and we absolutely want it to refer to banning discrimination."
Struggle For Acceptance
In 2015, Abe said the constitution did not envisage same-sex marriage and that changing the charter to allow it would require "extremely cautious consideration." His party issued a policy document last year emphasizing that embracing diversity didn't mean denying the difference between genders and it wasn't necessarily in favor of allowing people of the same gender to wed.
Otsuji said she came out in 2005, publishing a book about her experiences despite relatives urging her to keep it quiet. Even a decade later, she struggles to be accepted in a political world where men in late middle age are the norm. Low voting rates among those in their twenties and thirties means politicians must appeal to the over-fifties, she said.
"There's a great deal of freedom and tolerance in young people's culture," she said. "But the world of politics is completely cut off from that."
Before it's here, it's on the Bloomberg Terminal.
LEARN MORE