Photographer: Jerome Favre/Bloomberg
Executives Arrested as Hong Kong Intensifies 'Enigma Network' Probe
By
ICAC and SFC searched eight locations in a joint operation

Crash in June saw some stocks plunge by as much as 90%
Five months after one of the most dramatic stock crashes in Hong Kong history, the city's authorities are stepping up their investigation into a group of companies that one prominent investor has dubbed the "Enigma Network."
Hong Kong's anti-corruption and securities regulators searched eight locations and arrested three senior company executives on Thursday, the Independent Commission Against Corruption said in a statement. The actions were related to the Enigma Network, a group of 50 listed businesses highlighted by activist investor David Webb for their complex web of cross-shareholdings, according to a person with knowledge of the matter.
Many of those stocks plunged suddenly on June 27, some by as much as 90 percent, in a crash that underscored concerns about wild price swings and concentrated ownership of small-cap companies in Hong Kong's $5.1 trillion equity market. The city's regulators have vowed to crack down on stock manipulation, with Securities and Futures Commission enforcement head Tom Atkinson saying in October that "anyone who has been exploiting investors through this type of scheme should not underestimate our resolve to stop them."
Read more: 'Enigma Network' Roils Hong Kong's Stocks With 90% Plunges
Thursday's actions came two months after the SFC's largest-ever search operation. That raid was also related to the Enigma Network investigation, said the person with knowledge of the matter, who asked not to be identified because the probe's details aren't public.
Atkinson said in October that the searches were related to "the emergence of nefarious groups of interrelated companies that work in coordination to extract value from unsuspecting investors." The latest raid by the SFC and ICAC was their first-ever joint operation.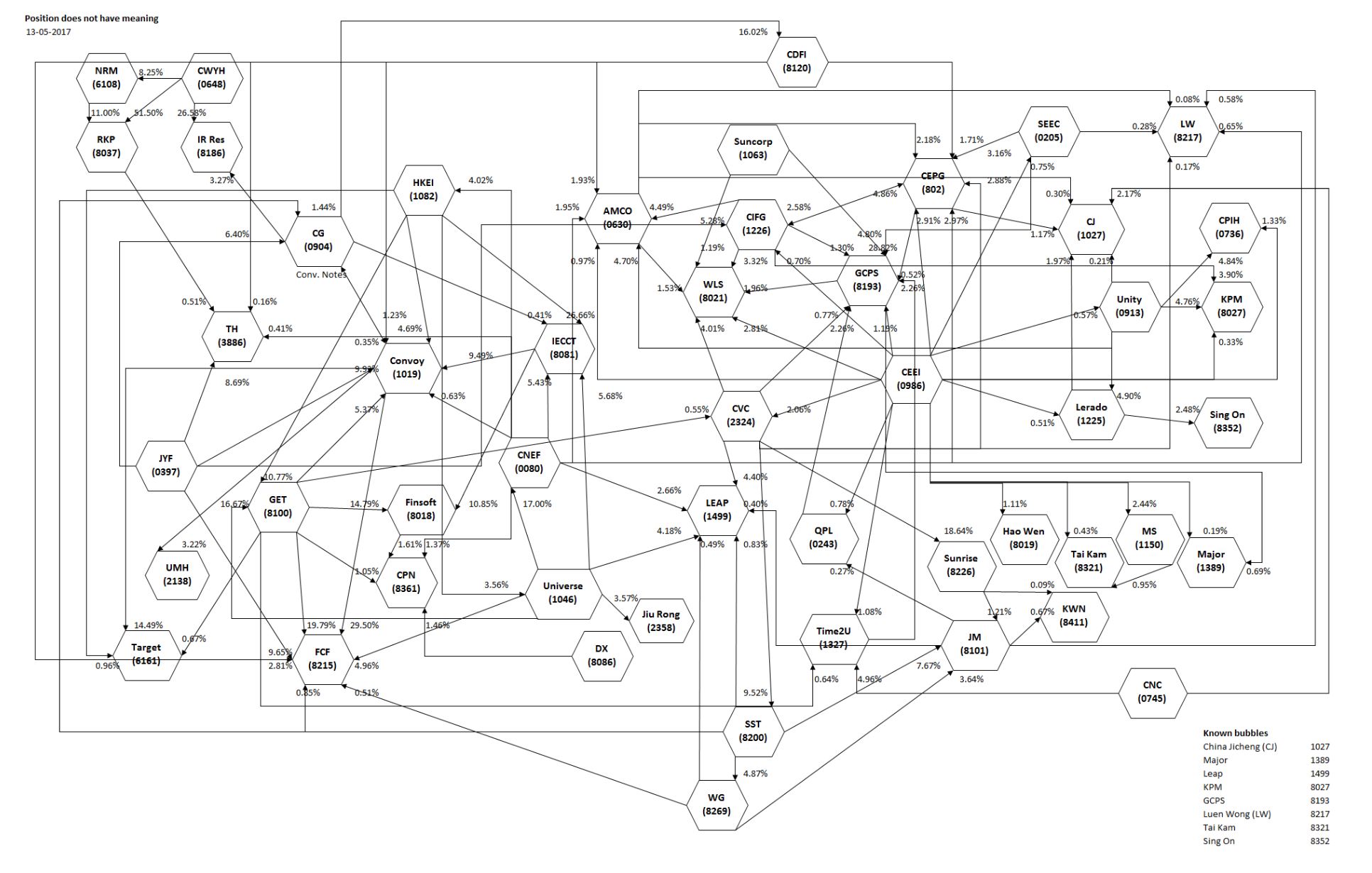 Convoy Global Holdings Ltd., one of the businesses Webb included in the Enigma Network, confirmed that three executive directors were arrested by the anti-corruption agency, including Chairman Wong Lee Man, according to a filing late Friday. The board suspended the duties of the three and named Ng Wing Fai as interim chairman. Shares will remain suspended pending further announcement.
Lerado Financial Group Co., another firm Webb placed in the network, said Friday it had been "invited to assist" ICAC in an investigation, without giving more details. The company, whose shares have been suspended since June, is providing the agency with documents and records, it said in a statement.
Trading in six of the 50 Enigma stocks has been suspended, Webb said in a phone interview on Friday. He added that, in some instances, the SFC should seek to have the companies liquidated.
"In several of the cases they should go to court and ask for winding up orders to liquidate these companies' assets and return the proceeds to shareholders," Webb said.
— With assistance by Simon Lee
Before it's here, it's on the Bloomberg Terminal.
LEARN MORE