politics
Honduras Crisis Drags on With No Election Winner
By
Officials start partial vote recount, opposition claims fraud

Human rights groups said 14 have died, most from gun wounds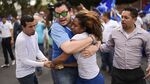 Honduras is headed into its third week without a winner in presidential elections amid a political standoff between the two leading candidates and few signs its worst crisis in a decade is about to end.

The Central American country of 9 million has slipped into a full-blown constitutional emergency since a chaotic Nov. 26 election ended in claims that President Juan Orlando Hernandez was trying to win re-election by stealing the vote. Widespread demonstrations have shut down parts of major cities and blocked highways. In a report released Friday, Amnesty International said security forces chased, arrested and used tear gas and firearms against protesters. At least 14 people were killed, most from gunshot wounds, and dozens were injured, the report said.
Although Hernandez clings to a 52,445-vote lead with all votes tallied, the main opposition party, led by candidate Salvador Nasralla, refuses to recognize the results, claiming the process has been tainted by a corrupt electoral commission. Nasralla is calling for international arbiters, led by the European Union and Organization of American States, to oversee a full recount or even run a new election.

Hernandez, who has dismissed the fraud claims, endorsed an electoral council plan to recount of votes form some 5,000 polling stations. By law, a winner has to be declared by Dec. 26. Still, observers saw little signs the standoff will end then.
"There won't be an agreement here. The only way out is a new election overseen by international bodies. There's too much evidence of fraud for this election to be accepted as legitimate," said Dana Frank, a professor at the University of California, Santa Cruz, who studies Honduran politics. Short of a new election, "people are not going to stop protesting. They've shown they're willing to stay in the streets and die for this."
The crisis threatens to derail the $22 billion economy, which the International Monetary Fund forecast will grow 4 percent this year, its fastest rate in five years. The exporter of coffee and apparel has become a bond investor favorite in recent years after it signed an IMF package, slashed its deficit and halved one of the world's highest homicide rates. The S&P warned this week that the country faces a credit ratings downgrade should the electoral situation undermine economic policies.
So far, bondholders have shrugged off the situation. Bonds have rebounded after a sell off in the days following the vote, when initial returns showed Nasralla in the lead. Honduras debt has returned 0.89 percent since Nov. 29, the fourth-best performer in the world, according to Bloomberg USD Emerging Market Sovereign Bond Index. Yields on notes due in 2027 were unchanged at 5.40% on Friday at noon New York time.
(
Adds details on Amnesty International report in 2nd paragraph.
)
Before it's here, it's on the Bloomberg Terminal.
LEARN MORE