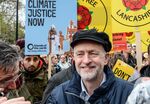 The news of a Brexit breakthrough has been taken cautiously by U.K. markets. It's been a long time coming and there are many ways things can still go wrong. But avoiding a hard EU departure is definitely a positive that will increase in importance.
If the deal sticks and trade talks progress, Britain's economic outlook will surely improve. The Office for Budgetary Responsibility's forecasts for annual GDP growth of slightly more than 1 percent in the coming years already look too gloomy.
The pound is on an upward trend, but gains will be easier versus the euro, where it looks like breaking into the upper half of its post-Brexit referendum range.

Sterling should keep appreciating versus the dollar too, but this will probably be more modest as it's already made up much of the lost ground from last year.
U.K. stock markets are linked umbilically to the fortunes of the pound as three-quarters of earnings come from abroad. Yet a stronger economic outlook will limit any weakness. Those offsetting factors explain why the FTSE 100 is holding steady.
For interest-rate markets, things are more complicated. Short-term rates tend to look for the next Bank of England rate hike, even though the economy doesn't warrant one next year. The bank's Monetary Policy Committee emphasize that only two further hikes are expected over a three-year forecasting period. Nothing that happened overnight fundamentally changes that view.
It is feasible that after March 2019 -- when Brexit actually happens -- the Bank may finally be able to mirror the U.S. Federal Reserve's steady hiking path. The shorter end of the yield curve may well steepen to reflect that.
For gilt yields, there's already an upward pull from rising U.S. Bond yields. The Fed is almost certainly going to raise rates again next week by 25 basis points, and will hike three or four times next year. Short-term technical factors also point to higher gilt yields. A recent large coupon payment has passed through and last month's government budget statement made clear gilt issuance will only rise. A stronger pound will probably push gilt yields up too.
The 30-year spread to U.S. Treasuries is close to the narrowest it's been all year. That almost makes gilts look cheap, even though it's the most overpriced major bond market on a real interest basis -- with 3 percent inflation well in excess of all gilt yields.

With leading cabinet Brexiteers Boris Johnson and Michael Gove backing Prime Minister May's Brussels deal, her ministers are at least supporting her in public. Keeping her pro-Brexit right wingers in check is probably more important than any brinkmanship over Ireland, but their justified anxiety about losing an election to Jeremy Corbyn's Labour Party appears to be doing that job for her.
The relatively muted market reaction doesn't mean optimism won't build, and that should put sterling markets on a stronger footing. May's precarious political position will be exposed again during inevitably painful EU trade talks, but "Fear of Corbyn" is just about holding the ship together for now.
Before it's here, it's on the Bloomberg Terminal.
LEARN MORE