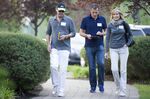 With the 21st Century Fox Inc. mega-deal just around the corner, it's worth a closer look at what exactly Walt Disney Co. may be gaining. 
To start, here's a rough list of what assets may go where as part of the transaction, which will reportedly top $60 billion when factoring in debt tied to them:

At the heart of the deal is CEO Bob Iger's strategy to better harness Disney's valuable films and bulk up on content in preparation for next year's launch of Disney's own streaming service that will rival Netflix Inc. As a result, the company plans to no longer supply Disney and Pixar films to Netflix. 
Disney may be a couple of years late to this, but the move makes sense considering how it has dominated the box office for three years -- right now with its "Beauty and the Beast" remake, and probably soon with the new "Star Wars" film coming Dec. 15. The company raked in $1.8 billion in domestic ticket sales through Dec. 3 on just seven new titles, according to BoxOfficeMojo.com. To put that in perspective, it took Time Warner Inc.'s Warner Bros. nearly twice as many films to gross that amount, even though it has the No. 2 title, "Wonder Woman." Fox is way down in eighth place with "Logan," revealing an opportunity for Disney to use its film genius to strengthen Fox's franchises. 
Hulu, the online streaming service, is another key asset in play. The deal could leave Disney with majority ownership, which makes me wonder what Comcast Corp. does, if anything, with its 30 percent stake in the service. Hulu would probably be better served at this point under a single owner to facilitate faster growth. However, that may only make the over-the-top TV world messier from a consumer standpoint as more companies launch their own products, like Disney's doing.

On the TV side, the assets Fox is relinquishing don't quite have the wow factor -- FX, National Geographic, regional sports, etc. But it's important to remember that media networks are the biggest and most important part of the Disney empire, and scale is critical as more cable subscribers cut the cord or switch to online services. Even Disney has been feeling the heat. 
Fox, when taking into account all its networks, has weathered cord-cutting much better than its closest rivals. That's been used as an argument for how Fox CEO James Murdoch could help Disney should he follow the TV assets there and convert to a Disney executive. But there may also be a simple cause for Fox's sturdier subscriber base -- and it has a catch. Fox's audience, particularly on the news side, skews older, therefore viewers are less likely to be ditch cable packages for internet TV. The question is whether down the road that poses a problem. 

Even so, Murdoch does have U.S. and international media experience, which is the most critical factor for Disney's board in trying to determine Iger's successor. He's scheduled to retire in July 2019 (although it seems he never wants to ever leave). There's already speculation that Murdoch could be primed to take over from him. There are a some hitches, though, such as an obvious conflict of interest with his father, mogul Rupert Murdoch, and brother Lachlan running a rival media giant, and the phone-hacking and sexual-harassment scandals that occurred under the Murdochs' watch at News Corp. and Fox. 
It's still unclear what becomes of Fox. Does it simply remain a smaller company? Do the Murdochs take it private? Or could they even recombine Fox News with News Corp.? And based on CNBC's reporting, this sounds like it will be a stock transaction, so one might assume the Murdochs are also receiving shares of Disney, which is very interesting. 
As for Disney, it's gaining businesses that have been undervalued in the Fox conglomerate and quickly becoming a powerful force in online streaming before it even has a streaming service. Anyone hoping this year's rumors were true about Iger running for president in 2020 can forget it. Execution is going to be everything, and with this likely Iger's last big deal for Disney, it needs to be another home run.  
Before it's here, it's on the Bloomberg Terminal.
LEARN MORE