Death Rattle or Just More Boom? Europe Embraces Risky Credit
By
Burger King France sells PIK notes synonymous with market top

Spreads have widened as caution seeps into global markets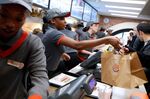 After another bout of caution rippled through global markets this week, a flurry of high-yield deals can be taken one of two ways. It's either a last-minute dash for cash before the cycle peaks or proof of market resilience.
A succession of eye-catching sales has been absorbed in the past few weeks
with barely a hint of resistance by money managers hungry for returns. Burger King France SAS was the latest, defying a broader risk-off mood this week to sell a CCC-rated bond to fund an acquisition and repay debts. About 27 billion euros ($32 billion) worth of high-yield bonds has priced in the region this quarter, the third-busiest on record, according to data compiled by Bloomberg.

Highly-leveraged borrowers appear to be rushing to sell risky bonds in Europe as signs emerge that the market may be reaching a peak. And investors -- forced down the yield curve as central-bank buying crowds them out of stronger names -- have been happy to pile into lower-rated debt in a bid to juice returns. But having already widened in November, CCC spreads are once again increasing, threatening to close the window for some companies.
"Issuers that may have been historically more reluctant are coming to the marketplace because there's demand," said Chicago-based Jim Schaeffer, co-head of public fixed-income at Aegon USA Investment Management LLC, whose firm oversees $105 billion of assets. "In the late stages of the business cycle, access to credit is easy; investors are looking for yield and financing terms are good."
Turning Point
The bull market in credit probably has another six months to run, according to Deutsche Bank AG strategists. They see a turning point in June when the European Central Bank meeting details a comprehensive plan to taper asset purchases "which could move the discussion onto the timing of the first rate hike," said Deutsche Bank strategist Nick Burns.
Possibly with those events in mind, and as spreads crawl wider, some of the riskiest issuance of the year has dashed to market. That's taken the tally of CCC-rated European bond sales in 2017 to about 6.7 billion euros, according to data compiled by Bloomberg, poised to eclipse the 6.88 billion-euro record set in 2015.
French food company Picard Groupe raised 1.2 billion euros at the start of December in the second-largest ever bond from a high-yield issuer in Europe. And at least two issuers, Wind Hellas Telecommunications SA and Perstorp Holding, have priced bonds with coupons of more 10 percent this week, underscoring ongoing appetite for even the riskiest debt.
Terminal users can read more in our November month-end story.
Burger King France's deal gives the fast-food chain the option of paying interest with further debt, a feature known as payment-in-kind that many see as a signal of a market-top.
One enticement to take on CCC risk: the debt has gained 21 percent this year, outperforming speculative-grade peers in the Bloomberg Barclays Euro High Yield Index.
And with yields on everything from government bonds to BBB companies trading at sub-zero, investors may need to dip further down the rating spectrum to meet return targets, according to Olivier Monnoyeur, a portfolio manager at BNP Paribas Asset Management U.K. Ltd.
There will be "more and more CCC-rated bonds because of the late cycle dynamics, where we've exhausted all the BB and B-rated companies, and because investors still need to generate yield," Monnoyeur said earlier this month.
— With assistance by Charles Daly, and Aine Quinn
Before it's here, it's on the Bloomberg Terminal.
LEARN MORE