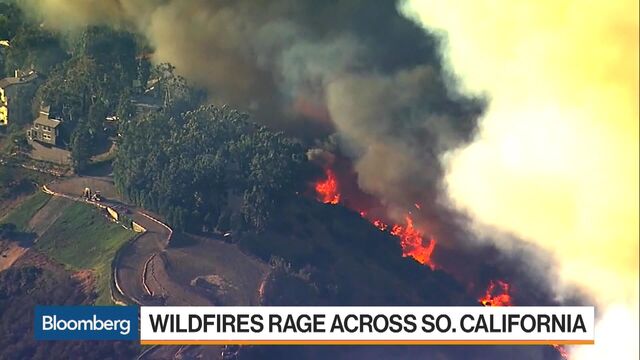 Firefighters trying to contain blazes raging in Southern California won't get much relief from the weather this weekend.
Dry and warm Santa Ana winds blowing in from the desert are forecast to gust between 30 to 50 miles (48 to 80 kilometers) per hour through Sunday, the National Weather Service said. Red flag warnings - meaning a heightened risk of wildfires - have been posted for much of Los Angeles and Ventura counties through Sunday, according to the weather service.
Fires fanned by strong winds have charred hundreds of thousands of acres, burned hundreds of homes, shut major freeways and closed schools throughout Southern California this week. Lower winds on Friday have allowed crews to make progress in containing some of the conflagrations, said Scott McLean, a spokesman for the California Department of Forestry and Fire Protection.
"It's a very volatile situation," McLean said in a phone interview. "When you get high winds and low humidity, those things make a big difference in how a fire reacts."
Before it's here, it's on the Bloomberg Terminal.
LEARN MORE