Brexit Gives Barclays a Headache as Fewer Staff Are Said to Exit
By and
Attrition rate falls as staff worried roles may leave London

Employment costs to rise due to fintech push, senior hires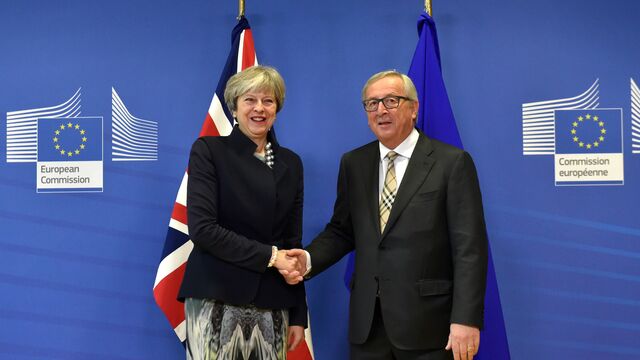 Jes Staley's latest problem at Barclays Plc? Not enough people want to leave.
The bank has seen a decline in staff voluntarily leaving in the aftermath of Brexit, which managers are attributing partly to fears their positions may be relocated if they switch to a rival less tied to London, according to people familiar with the trend. The lower attrition is forcing managers to reassess their workforce planning and recruitment models as Barclays tries to eliminate costs 1 billion pounds of costs ($1.3 billion), they said.
The lender's overall 12-month rolling voluntary attrition dropped to about 10 percent in October from 12 percent at the same time last year, according to the people. In the U.K., the measure fell 2 percentage points to 8 percent, they said. A Barclays spokesman declined to comment.
The drop is most notable in technology and operations. Among the 30,000 people that work in the chief operating office -- which accounts for about a third of employees and is run by Paul Compton -- the rolling attrition rate has recently fallen to around 10 percent after staying at about 13 percent for at least the past three years, said the people, who asked not to be identified speaking about private data. 
Impatient Investors
Investors are impatient to see evidence that Chief Executive Officer Staley's turnaround is working, particularly as the share price has slid 12 percent this year. Barclays has pledged to reduce annual costs to between 13.6 billion pounds and 13.9 billion pounds by 2019 from 14.6 billion pounds last year. Cutting staff expenses will be key to achieving the bank's recently-announced objective to generate a return on tangible equity of greater than 9 percent in 2019 and more than 10 percent the following year.
Informal surveys of staff revealed one of the major factors in more employees deciding to stay put is that Barclays has been less vocal about relocating positions out of the U.K., saying it plans to move only 150 people to Dublin, said the people. The bank's stance contrasts with that of JPMorgan Chase & Co. boss Jamie Dimon, who has said 4,000 roles may be moved inside the EU, while Deutsche Bank AG is planning to move a similar number to Germany, Bloomberg News has reported.
London's information technology staff are also facing the prospect of their roles moving to lower-cost European Union countries in eastern Europe. Next year, Goldman Sachs Group Inc. is seeking to hire another 250 IT specialists in Poland to add to the 525 people already working in its Warsaw technology hub. JPMorgan said in September it will hire at least 3,000 people within three years for a new office in the same city.
Technology Company?
Staley has said he wants to turn Barclays into a technology company and believes it needs to develop its own proprietary systems if it wants to stand out from the competition. The lender is choosing to increasingly make senior level hires directly from industry, hiring from companies such as PayPal Holdings Inc. and AT&T Inc., one of the people said. The hires are seen as part of this drive to become a serious fintech company, they added.
To fulfill the CEO's promise, the number of managing directors that work in operations and technology this year was increased by about 30 percent as the bank plays catch up to rivals such as JPMorgan that have been outspending them, the people said. This jump in senior management numbers will result in a large short-term increase in the company's wage bill, with the bank expecting expenses to fall over time as technology replaces low-skilled jobs, one of the people said.
Before it's here, it's on the Bloomberg Terminal.
LEARN MORE